IMC's Proven Brand Licensing Deal Process
IMC Licensing
August 19, 2020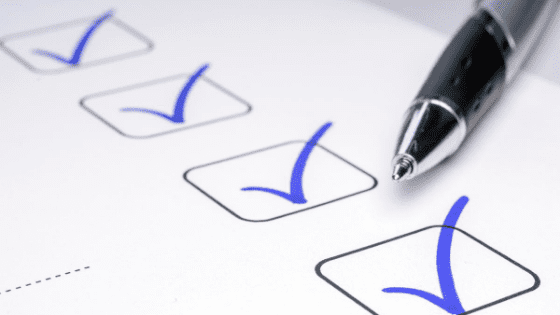 Wading into the licensing pool can be pretty intimidating. On one hand, you think you should understand every aspect, but on the other hand you'd rather just snap your fingers and have it all be magically complete.
I get it. But as with most things, the mystery of the process is what makes it intimidating so let's break down what goes on behind the curtain and demystify how we do licensing deals.
One teeny-weeny caveat before we get going. Just because I peel back the curtain, does not mean it's a simple process. A licensing deal has many aspects, each of which builds on one another to ensure all parties get what they want while covering their backsides. For IMC, we came up with a proven, repeatable process to ensure we don't miss an important detail. Even then, every deal is unique and we pride ourselves on our ability to bend and flex along with the needs of our clients.
Alright, let's start by breaking down our licensing deal process.
Strategy
What's that old adage? Measure twice, cut once? That's how we look at our Strategy phase. Taking the time upfront to put a comprehensive plan together saves countless hours later in the process. Many clients come to us with an inspiring vision, but a vision isn't actionable until we turn it into a strategy.
For most clients, our licensing Strategy phase breaks down into three steps:
Deep-dive into the brand's consumer information and data.
Understand the retail channels and sales.
Dig into the brand's current marketing initiatives and effectiveness.
Once we have a good grasp on where the brand is, we work on identifying potential licensing categories, and then we create an execution plan for solicitation and deal execution.
Solicitation
Most clients are anxious to get to the outreach, but that's not where we start. No, first we like to create a little buzz and make sure we have our sales items and any other materials ready to go. This usually means sending out a press release to announce the partnership opportunities plus making sure everything is in order so we are not scrambling when the calls do roll in.
We also recommend to clients they create a brand style guide we can share with potential licensees. This can be a useful tool in the solicitation process, and it will be used by licensees to execute creative and branding effectively. This leads to faster approvals, product on shelf more quickly, which results in sales and royalty revenue.
During these six to twelve months, we are attending trade shows, proactively sending out emails, making calls, and following up. We want to ensure we have viable prospects before we move into the next phase where we will iron out the details.
Proposal & Contract
Sometimes we sail through the proposal and contract phase with ease, and other times we revise and negotiate until we get the agreement just right. Though we fight hard for our clients, we do want everyone in the deal to feel like we have created the proverbial "win-win" for them.
Hopefully, we wrap up this phase well within three months as we work closely with our client and the licensing partner to move from proposal to contract to negotiations, and finally, a signed deal. Personally, I love the moment when the last signature is complete and our client reaches a major milestone.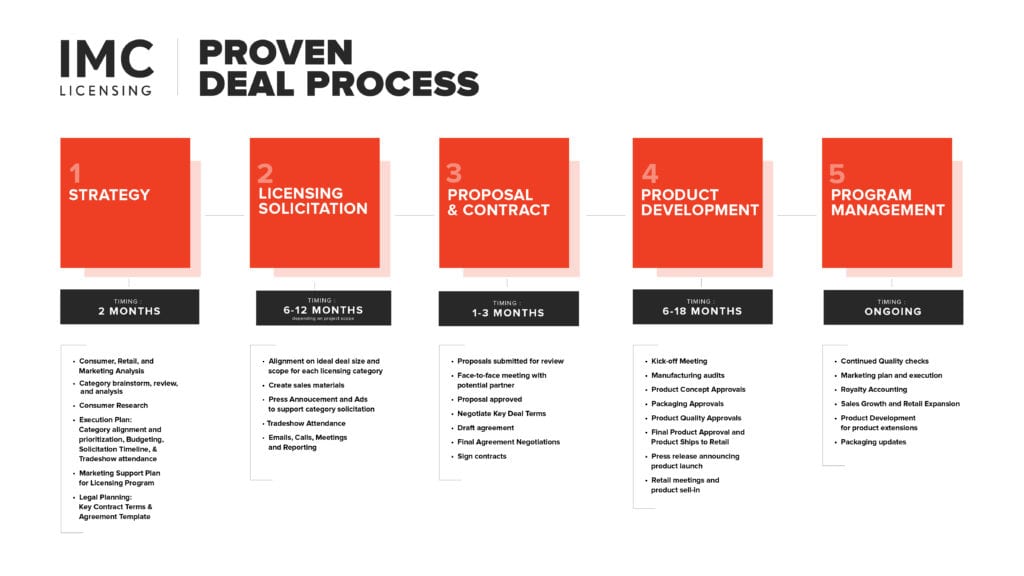 Product Development
But our work is not over once our client has a deal. We continue to work to create the profitable business we all envisioned in the Strategy phase. During the next six to eighteen months, our team works alongside our client and the licensee to manage the product development of the new licensed product.
IMC makes sure all necessary submissions are sent for review and approval while providing support for the product's retail sell-in and launch. We assist in media relations, marketing efforts, and ensuring everything is ready for a successful launch.
Program Management
What more is there, you ask? Well, that's what we'd like to know! Meaning we don't just walk away once the product is launched, rather we stay involved to help you see growth opportunities, potential product line extensions, and packaging updates and evolution.
When you work with IMC, you get an advisor who is invested in your outcome and wants to see you surpass the inspired vision you first shared with us. We don't just facilitate the deal and walk away, we stick around to help your business thrive. After all, if we've all done our jobs well, you might be ready to expand sooner than you think!
Proven Licensing Process
IMC's proven deal process can help you sort through your licensing challenges freeing you to focus on the future of your business. If you'd like to meet with us to see how we can help be the brand licensing agency that your company needs, reach out today.