In the Press: Biggie Smalls Launches Snack Line Through Licensing Deal with Rap Snacks
IMC Licensing
March 26, 2020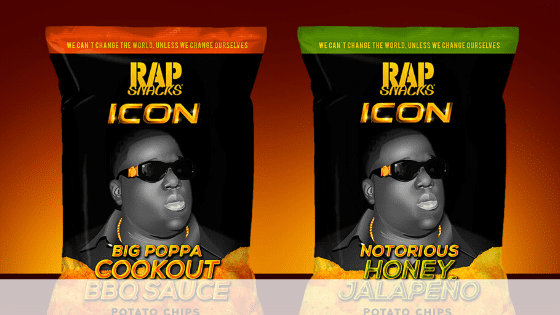 Originally from RapSnacks.net.
New York, NY (December 6, 2019) – This January, Rap Snacks, the official "Snack of Hip Hop," launches the Rap Snacks ICON line featuring The Notorious B.I.G. with chip flavors, the Big Poppa Cookout BBQ Sauce potato chip and Notorious Honey Jalapeno potato chips. With more to come, Rap Snacks ICON is an ode to hip hop legends, honoring the genres most influential artists who have left a mark on the industry.
Rap Snack's launches the Biggie ICON chips in partnership with The Christopher Wallace Memorial Foundation and the Rap Snacks 'Boss Up' Foundation. Collaboratively, both foundations will be providing support to organizations from proceeds from the chips.
Spearheading the partnership, Voletta Wallace, Biggie's mother shares, "I'm happy to announce our partnership with Rap Snacks and the Rap Snacks Boss Up Foundation to create delicious flavored potato chips packaged with my son's, Notorious BIG moniker and image. Our primary focus in doing this deal was to assure a portion of proceeds of sales are paid to The Christopher Wallace Memorial Foundation to further our efforts of providing computers, books and other educational tools to inner city youth as well as assistance to the elderly in the Urban communities." Rap Snacks founder, James Lindsay shares, "It is essential to Rap Snacks and the Rap Snacks 'Boss Up' Foundation that as a brand, we connect with and support the icons that have made the greatest impact on culture. This partnership is not only an opportunity to pay tribute to those change makers, but through these collaborations we are able to give back to our own in a meaningful way. We value the roles our icons have played and are grateful for their service to urban communities."
The Rap Snacks ICON line will include other potato chip flavors, corn products, and noodles, the newest product for the brand. The line will be available in local convenience stores in markets where Rap Snacks are sold. Rap Snacks embarks on another expansion now partnering with goPuff, a digital convenience delivery service that gets products to consumers in 30 minutes, to make their flavors: Cardi B Cheddar Bar-B-Que chips, Cardi B Jerk BBQ Wavy chips, Migos Sour Cream and Ranch chips, and Migos Bar-B-Quin' with my Honey with Ranch Wavy chips easily and digitally accessible to their consumers. The four flavors are available in select markets where goPuff delivers. The original Rap Snack flavors fans love are now available in over 4200 Walmart locations nationwide. Find Rap Snacks at goPuff.com.
Louisville-based brand licensing agency, IMC Licensing, partnered with Rap Snacks and the Estate to negotiate and broker the Rap Snacks ICON line. IMC President, Emily Wickerham Randles, spoke to the agency's excitement around the partnership. "We are very excited to bring the Biggie brand into snack foods, which will allow fans to connect with and remember Biggie's legacy in their everyday lives."
ABOUT RAP SNACKS & THE BOSS UP FOUNDATION
Rap Snacks, Inc. was founded in 1994 by CEO James Lindsay as a variety of potato chips the featured major recording artists. They are generally sold in convenience stores and advertised as "The Official Snack of Hip Hop." Each rapper has their own distinct flavor. The packaging of each variety features a cartoon version of the rapper on the front and a brief quote from the artist on the back. The initial success of Rap Snacks helped solidify a co-marketing agreement with Universal Records. The deal consisted of advertising Universal's artists on all Rap Snacks bags. Eventually the company grew into a successful business selling mostly twenty-five cent bags of chips. After revamping the Rap Snacks brand and relaunching in 2016, Rap Snacks has grown above and beyond expectations. Currently featuring top Hip Hop artists such as Migos, Cardi B, and Boosie on its bags, the official snack of Hip-Hop culture is quickly becoming a national favorite. In 2018, the Rap Snacks 'Boss Up' Foundation was established as the philanthropic arm of Rap Snacks to assist James Lindsay's work of goodwill. Through partnerships with organizations dedicated to strengthening their local communities, development of programs for youth, and working with organizations that align with their mission, the foundation seeks to inspire and equip the next generation of leaders. By giving them the opportunities, they deserve, the foundation, believes, like James, every child can build a better future—and become all they were created to be.
ABOUT IMC LICENSING
Representing a roster of iconic Fortune 500 brands and a strong reputation for quality and integrity, IMC is a top product and branding licensing agency that has developed licensed products that have generated more than $3 billion in sales since its founding in 1997. Passionate and curious, we offer fresh thinking and creativity that is widely renowned in the brand licensing industry.