When Products do the Talking: Volvo Life Paint Says it All
Stephen Reily
July 15, 2015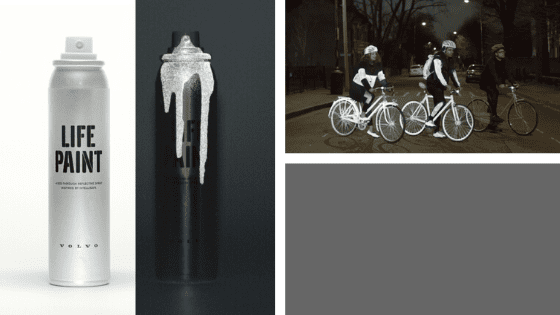 At this year's Cannes Lions International Festival of Creativity only one campaign won two Grand Prix Awards (in Design and Promo/Activation), and it wasn't even what most people would think of as a campaign. It wasn't a commercial, print ad or slogan that a brand paid for consumers to see, nor was it an attention-grabbing stunt; it was simply a great new product that consumers themselves are paying to use: Volvo Life Paint.
Volvo Life Paint is a reflective spray that makes bikes and bikers more visible at night, and it accomplishes a rare trifecta for new products: it communicates a brand message more effectively than any slogan, it is easy to understand (and desire), and it will actually save lives.
Products Can Tell The Best Messages
Great brands were, first and foremost, great new products (another example from Cannes mentioned here). But marketers sometimes confuse their own skills – coming up with great ways to communicate a brand's value – with the fact that the brand's first way of sharing its message was a thing.
Sometimes the most valuable marketing message is another product that delivers the brand's core benefits in unexpected ways.
Volvo's brand, like its products, mean safety.
Back in the 1930s, Volvo's engineers gave an unexpected answer when asked to name the most important part of any car: humans.
More recently, Volvo launched its "Vision 2020," with a goal that no person is killed or seriously injured in – or by – a Volvo by 2020. Volvo was the first auto brand to extend its safety goals beyond the car itself to include both pedestrians and bikers.
That's where Volvo Life Paint comes in, reminding consumers that Volvo cares about people other than car buyers, and that its brand can make anyone safer on the road.
And because the product says it for them, they don't have to say it themselves.
Getting Consumers to Pay for Marketing
It's not just the novelty of the product, but also the clarity of its message, that made Volvo Life Paint immediately popular. UK Bike shops could not keep it in stock, and Volvo is working to expand its availability to more outlets and more countries.
This is where the benefits of using new products as a marketing message becomes especially clear. Brands pay heavily for marketing communication messages to reach consumers (whether consumers want them or not). But consumers are the ones who are paying to be part of the Volvo Life Paint message – and they will continue doing so for years to come.
People aren't buying Volvo Life Paint just because they love Volvo; it isn't a collectible, a toy, or a t-shirt. They are buying Volvo Life Paint because of its benefits and its connection to the brand are so clear. And they are doing so in bike shops – places where car brands are sometimes actually viewed as enemies.
Product Marketing Can Do Good
The marketing industry (especially at Cannes) is sometimes schizophrenic, making its money from selling goods but celebrating the campaigns that do good. Volvo Life Paint does both.
Volvo Life Paint has been criticized by some for its impermanence (requiring frequent re-application). And others have said reducing bike injuries should be focused solely on cars, which cause most of the harm. But no one thinks it's bad to make biking (and running) safer, and no one will ever blame Volvo for supporting that goal.
As a top brand licensing agency, we love making great new products happen.  The licensing partnership between Volvo, Swedish reflective-spray company Albedo100 and agency Grey London that created Life Paint, inspires us to identify other new products that tell stories, attract buyers, and save lives.