Negotiating Licensing Contracts That Last | Julie Brown, IMC Licensing
The Brand Licensing Podcast
April 16, 2021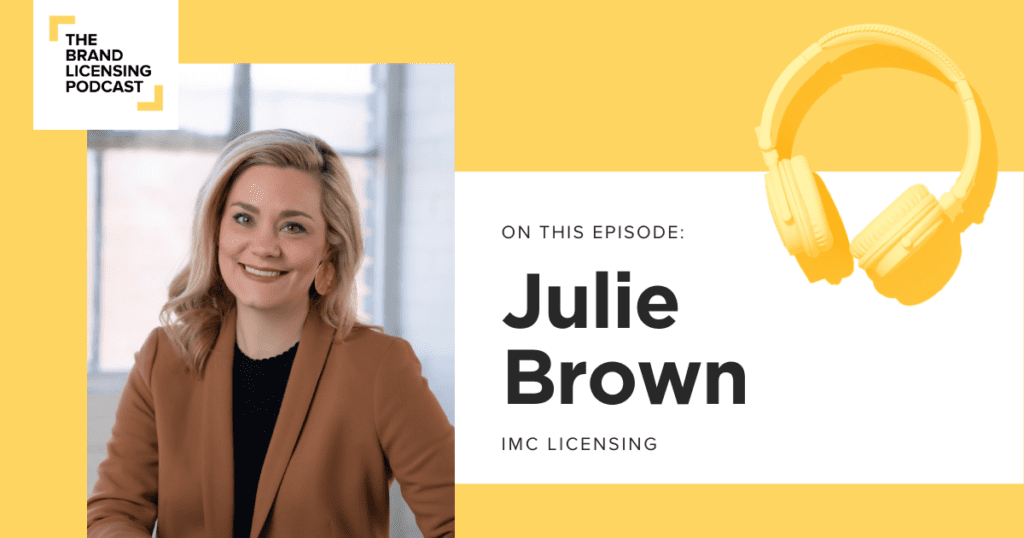 We're welcoming Julie Brown to The Brand Licensing Podcast! As IMC's VP of Client Services, Julie is bringing her expertise in deal negotiation and contract execution to our new episode.
About Our Guest
Some people have a presence that makes you feel instantly at ease around them — and Julie Brown is one of those people. She's that rarest blend of character traits: A poised, friendly Type A and self-described "clean-freak, organization-freak" who carries about her an easygoing charm. Mrs. Easygoing's motto is "Organization is the key to success," and she spent the first 8+ years of her career in a garden variety of marketing and business development roles for corporate service firms, but finally left for a position that offered more of a relationship with clients in her day-to-day. Hence IMC.
During her tenure with us, Julie has shot up the proverbial ladder to Vice President, in no small part because she's equally comfortable with the formality of process and spreadsheets as she is with connecting with clients and colleagues alike. And lest we make her sound too attuned to workflow, let it be noted that she's also a photographer, an Audible aficionado, a runner, and the proud mom of Max and Charlotte, who she loves watching from the sidelines as they play sports or participate in events. The other love of her life: Wine. Her husband ranks up there, too — as does her 16-year-old rescue dog, Lola. Suffice it to remark, Julie has always made a splendid addition to our team, and rest assured you'll immediately feel at ease around her.
Check out the full episode below, or tune in on Apple Podcasts or Spotify. Don't forget to subscribe!
---
Episode Transcription
Emily Randles:
Good morning, Julie.
Julie Brown:
Good morning.
ER:
Thanks for joining us on The Brand Licensing Podcast. Today we're speaking with IMC's Vice President of Client Services, Julie Brown. Julie has managed several of our licensing programs and is our in-house specialist on contract negotiations. Before we jump into the details of licensing contracts, Julie, can you give us a little rundown on your resume and background?
JB:
Sure, I've been in the licensing industry for almost nine years, all of which have been at IMC. Before that, I worked for a national accounting firm with a business development role and a regional law firm in a marketing and communications role. Both were great experiences, but I wanted more of a client-facing role and to be a little bit more involved on the marketing front, intrigued by brand management, which led me to IMC. I was able to marry both of those once from a career perspective and the client services role but then in working with brand managers on licensing programs, so perfect fit.
ER:
Great. Jumping in here with your experience and working with licensees and licensors and contracts: what is the most common mistake you see either party making in your experience?
JB:
Sure, it's really simple, and truthfully, it's just that either party is not reading the contract that they have in place. Often when we're in the negotiation stage and working through redline edits, a member of the licensee and licensor's legal team will be leading those conversations along with IMC or senior management, and they're the ones that we're working on with to negotiate the fine print and the terms. When we go to a day-to-day relationship, and there's a handover, those people that we're working with day to day to manage the program are not always familiar, don't always read the contractual details. And so it's really simple, we've got some partners that forget innocently, on what their distribution rights are, what retailers they can sell to. It's as simple as I think not always reading the contract and being familiar with it, especially with parties with multiple contracts going. Maybe you forget some of the negotiated points that are in agreement. So always encourage our partners' licensee and licensor to make sure that they're reading thoroughly through their contracts and revisiting them often.
ER:
Great. If a licensee or licensor wants to review like a template License Agreement, can somebody find something they can reference?
JB:
Your agent is the best, or finding an agent is your best bet, and that's really because we're well versed in all the sections of the agreement and implications to the other sections within the agreement. And we can provide a recommendation based on the complexity of your brand and the license categories you want to pursue. In some cases, in really complex situations, we have agreements that cater to specific needs. And so we've got 50-page agreements set up. And they're warranted; we need 50-page agreements. In other cases, we might only need a very simple agreement, maybe five to 10 pages, maybe far less, depending on the brand. I would encourage you to work with an agent or find an agent to find a template license agreement that suits your needs. It's not one size fits all for your brand or the category.
ER:
Yeah, that's great advice. One other thing that comes to mind is the key terms that they should be paying attention to? So I mean, I know for you and I, we love, like bedtime reading contracts and reading the fine print, right? But probably not everyone is willing to sit down and go into the depths of the agreement. So what are some of the things that they should be paying attention to?
JB:
Sure, the most obvious is financial terms. So an agreement will lay out the royalty rate. Often, agreements have a GMR – guaranteed minimum royalty that will be associated with the agreement. So, in that case, if you're not familiar, a licensee will give their royalty projections, and then we ask that licensee to guarantee a percentage of the royalty projection. If it's a new agreement, it could be half of that. If it's an ongoing agreement, and we have an established relationship, and we're just renewing, it could be a higher percentage. And again, you'll hear me say I think throughout this conversation, it's dependent on the brand and the categories for licensing that we're talking about. But GMRs are pretty common to be outlined in an agreement. From there, we're pretty specific in outlining what the category rights are for the licensed product. Those can be, again, depending on brand and category, more broad or very, very specific depending on the needs of both parties.
From there, we'll outline distribution rates, specific retail channels. We've even gotten as specific as dedicating specific aisles within a channel, within a store for licensed rights. We'll also outline the term of the agreement, the scope of the license, meaning is it exclusive or non-exclusive, performance requirements, typically, to keep a license agreement exclusive. We'll also outline approval processes, effects of termination, whether the agreement expires at the end of a term or if there's a breach of the agreement, and what that looks like. And then I would also say an important part is an assignment clause if a licensee sells their company, another business, or entity, you know, does the license agreement go with it? And what's the process for that? So those are just some that come off the top of my head.
ER:
Yeah, I know, we've run into that last one, an instance of the acquisition clause, and it's one you don't necessarily think of, but it's really important. Again, to your point, depending on the agreement, how long they are, but some of these agreements go for years and can change hands a couple of times. So I think that that's a good call out.
JB:
Yeah, it's not as obvious as the financial terms and the distribution channels and the licensed product category, like the obvious call-outs. But with assignment clauses, you know, we've had licensees who have just assumed that they can sell the company and the license goes with it, and their agreement would say otherwise. The agreement says that, and every agreement is different, I'll say, but we've had agreements that don't just allow for the license agreement to be assigned to the new company. It has to be approved by the licensor, and there's a process, and there's a timeline dedicated for doing that. Often, when licensees are up against sales, or they're looking for that to be done very quickly, and you know, maybe a licensor can't do it as quickly or the timeline needed of the licensee. So it's important upfront for licensees to understand that section.
ER:
So when you think about one of your clients getting ready to negotiate a license agreement, what do you recommend to them. And the first thing that comes to mind is armoring up when they agree that you know that you take a different approach. So can you walk us through that?
JB:
Sure. My advice is, to be fair, I hear you on the armoring up, which feels like what you would want to do to go into the agreement—but being fair and looking for terms that shape a long-term successful relationship. Often, our clients are looking for the best financial terms and getting the product in the market as soon as possible to start earning the revenue stream. And while that's important, sometimes squeezing your licensee for GMR, for the royalty rate will hinder them from investing in the program into the future and for marketing it appropriately. And so we want to set both parties up for success, and I think just really being fair to your licensee is most important and to think of this as a win-win scenario, versus the armor up scenario. Because that feels like that's your gut when you go into the contract negotiations, I want to be hard. I want to stand firm, but understanding each other's perspective is incredibly important, and drafting an agreement that meets both needs will suit both into the long term.
ER:
Yep. And I think the agreements are protection and guidelines. But it's working well with your partner. And so you want to set the stage when you go into negotiations and start this relationship. You want to set a good stage of having a fair contract so that you're working together and hopefully not even having to look at those termination clauses or if those clauses that are there are just in case scenarios.
JB:
Yeah, that's a great point.
ER:
So what would you recommend to licensees when negotiating the license agreement?
JB:
Sure. Licensees will come in with conservative projections when they're talking financials because that's the most negotiated part of an agreement. And so, from a licensee perspective, I would say know your bottom line. We know that they will come in with the conservative projections, and we'll push on that. But we don't want to push so far that we're signing the licensee up for a bad deal. And so, I would recommend the licensees have a good sense of the bottom line and your walk-away point regarding the financials. You don't want to be squeezed beyond your comfort and cannot deliver a successful long-term partnership.
ER:
Yep, that's great advice. What key sections should licensees make sure are included in their license agreements?
JB:
The template license agreements, pretty thorough and would address most of what I think a licensee and the licensor need to tackle in the agreement. But I think a couple of things come to mind just from the licensee perspective, and that would be if you're the licensee and have multiple product lines. You're selling, say, you know, we have licensees that sell maybe private label or their own branded product, or maybe they have other licenses. I think being transparent about that and ensuring that that's acknowledged within your license agreement with a new client or the new licensor is important. Often, I think we've done that and an exhibit, and then in the back of the agreement, just making sure that everyone is well aware of those product lines and how the proposed program will fit within that offering that the client already has, or the licensee already has. So that's one thing.
I think one thing that differs, depending on the contract, is the definition of net sales. And so I would make sure that it's really clear how royalties are to be reported and how net sales are defined. And how is that defined, but beyond that, what deductions are you allowed to take? How do you treat returns in the reporting of royalties regularly? And so I would make sure that you understand those sections because they can vary differently, depending on what contract you're negotiating with your brand owner.
ER:
I know you can't see me because we're in this podcast world, but I'm nodding along. That's all great advice. If there's a term that the licensor won't budge on and you're concerned about, should you walk away?
JB:
It depends on the term. My advice for licensees when they're negotiating agreements is to know their bottom line. And if you're being pushed financially beyond comfort, yes, I think you should walk away. But I think there are other terms that you'll find maybe one party or, you know, the licensor is not budging on. I think you need to talk to your brand licensing agent. This is where we're experts. We know how to find creative ways to solve the problem representing the client. We know their perspective and perspective on the term and why that's such a sticking point for them. And often, knowing that background, we're able to find the compromise and find a creative solution to address the need. And so I wouldn't just walk away at the first sticking point. I would engage in conversation with the agent. This is where we are valuable in these relationships.
ER:
The majority of the time, we're representing the brand's licensors. Do licensees ever have agents that can help them?
JB:
Absolutely. Many agents will call that in terms of their service offering as a manufacturer's Rep., and so that happens. We've got plenty of deals where we've worked with a licensee's agent as well and negotiated directly with the agent to agent.
ER:
Perfect. I know those agents can help find the right brands and guide the licensees and terms, and especially if they've never taken on a license before, I recommend just getting that guidance on the agreement part. Absolutely. Jumping back into kind of more nitty-gritty on the terms of a license agreement, one thing that stands out is exclusivity. Can you talk to us about how exclusivity typically works within a license agreement? If you're kind of how it works for the license or what should they consider? And if you're a licensee, what should you consider in terms of exclusivity?
JB:
Yeah, assuming it is not an in and out program. I think it's important to understand that licensees truly treat themselves as an extension of your brand and are looking to build a meaningful long-term program. They're investing in this program, and they value the partnership with their licensors. Depending on the category, and again, the brand, as I've said, most licensees will require exclusivity, and it's a fair request. As a brand owner, you wouldn't want multiple companies pitching the same product to buyers. It's not a cohesive look for your brand, but there are some exceptions here. The territory is meaningful in this conversation.
We've had licensees that have had exclusive rights depending on the territory. So country-specific, maybe North America per specific region, the specific territory is one place where you could define exclusivity. Another is in retail channels. So you could grant exclusivity to a partner in, say, mass channels, but then a different partner in specialty channels, for example. So those are two ways that you can define exclusivity, but it is a fair request for a licensee to get that and for a licensor, in my opinion, to grant it to the licensee.
ER:
Great. And I think something that we've run into that I'd love for you to touch on a little bit for our listeners is, what if the licensor says one: I'm happy for the licensee to do this. But I may want to create something similar in the future. How does granting exclusivity to the licensee prohibit a brand from entering the same category or doing something for themselves in the future? And are there workarounds for that?
JB:
Yeah, we've granted sole licenses for clients who wanted those rights to produce products in the future in the licensed product category. It's not an ideal scenario. It's not one that I would recommend, but it has been a creative way to solve a problem. In the past, with some licensors and some licensees. I would say we are very transparent in those conversations with the licensee. If we're doing that, if the licensor grants the sole license, it would be appropriate to say, Okay, I'm entering the category as a brand owner in this licensed product category, that's going to have a negative impact on the licensee's sales in the future. And so what are the provisions if that happens? We do have agreements and scenarios where we've said there would be an equitable adjustment to guaranteed minimum royalties if that were the case that a licensor entered the category. Again, it's not a scenario I would recommend, but it has been a way we've solved a problem with other agreements and just being transparent with all parties.
ER:
Yeah, no, and I think that the transparency part is the most important. I'm sure there's a strategic reason why someone would or wouldn't want to have that clause in an agreement. So to your more previous point, it's just being fair and doing what's right so that everybody feels aligned to the agreement. And then going on from exclusivity, can you talk to us about auto-renewals? We talked a bit about the term and the importance, but where do auto-renewals kind of land in an agreement?
JB:
Yeah, we have a fair amount of agreements with auto-renewal clauses, and we'll typically do that by assigning a performance hurdle in the agreement to the licensee. And typically, that's done, we would say, you know, in the initial term of the agreement, your cumulative sales have to hit X goal, and once you hit, it triggers the auto-renewal. And within the auto-renewal will have predefined financial terms, as in the royalty rate, we're assuming is the same, or maybe there's a change in royalty rate. We've seen that happen. And then here's those GMR, guaranteed minimum royalty requirement for the auto-renewal. So that's typically how we've done it where a performance hurdle triggers that auto-renewal within an agreement.
ER:
Perfect, that's great. The last thing I want to touch on is if you don't have that auto-renewal, how do the renewals work in general?
JB:
Yeah, typically a year, maybe we've squeezed some too much closer timeframes. But I would say a year out, start having those negotiations is fair because they can extend for a few months, and it's just for business continuity. I think it is helpful for licensees to have those renewals in place. So we'll start negotiating those terms, say a year in advance. It is not as in-depth of a process of signing the original agreement. It can be done as simply as agreeing to the extended term. What's the length of time? And then what are those financial implications? What are the additionally guaranteed minimums? Sometimes in our renewal period, we might adjust other clauses within the agreement. I've seen distribution channels be altered, whether they're expanded or restricted. I've seen the licensed product category gets expanded or restricted after the initial term. Again, others depend on the brand and the category, but it's done simply via an amendment. And, you know, those are two, two pages, three pages, again, depending on how many terms that we're altering in the agreement.
ER:
Perfect. That's helpful. So wrapping up, we're just curious here on what's your favorite part about working with licensees and licensors and negotiating agreements?
JB:
Well, no shock. I think it's just those finding those creative solves and problem-solving. Then there's not ever been an agreement that we've negotiated that's gone perfectly smoothly, where the licensee says here are my proposed terms the licensor says great, sure, sign us up, and it's just signed, sealed done. I like getting involved when we can help both parties feel like they've gotten a win and that we're setting both partners up to succeed in the future. That typically involves a little bit of work and back and forth on our end to find that the Creative Problem solves. So that's my favorite part, I nerd out and do this and enjoy working with both parties.
ER:
No, I know all of our clients and licensees think you do a great job, and so your expertise is very much appreciated by them. If people want to find you online or connect, what's the best way to do that?
JB:
I can be reached by email. I'm jbrown@imclicensing.com. I'm also on LinkedIn. My name is common, so you can find me under the IMC about page.
ER:
Perfect. Thank you. Julie, thank you so much for joining us today on the brand licensing podcast. I think you've given both licensees and licensors great insight into what they should be thinking about when negotiating and working on a license agreement.
JB:
Thank you for having me. It was a pleasure.