Trends in the Outdoor Industry & How Brand Licensing Can Help Fuel Growth
IMC Licensing
February 28, 2020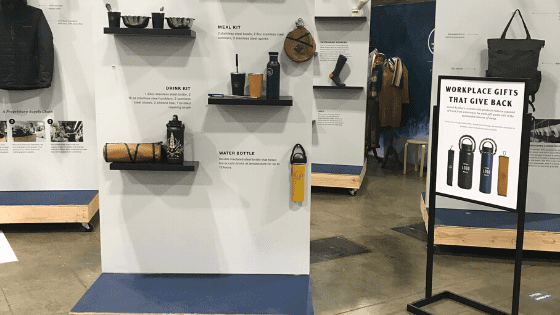 We recently attended the 70th Outdoor Retailer show in Denver, CO. Outdoor Retailer happens twice a year. There is a summer show and a winter show. The winter show featured gear for skiing, snowboarding, climbing, and everything in-between these winter activities.
As we talked with companies, three main themes continued to emerge:
Climate Change and Sustainability
Innovation
Passion for the Outdoors
Climate Change
There are a lot of companies and industries talking about climate change these days, but the outdoor industry is not only talking about it, they are also taking action! It was almost a battle cry for all of the companies at the show, and everyone seemed to come together and unite to take big and small steps in making meaningful change. They also walked the talk. A few hours into the show, I was desperate for water, but I could not find a bottle of water anywhere at the show. When I inquired at the snack stand, they told me that the show had banned the sale of plastic water bottles. Wow, while surprising, I was impressed with this effort. Luckily, I was able to quench my thirst with a water bottle a vendor graciously provided me and filled up at a water station offered by another vendor. The trade show even published their sustainability efforts on the website, Outdoor Retailers Commitment to Sustainability.
These initiatives are inspiring, and I love that licensing partnerships can also expand the efforts of sustainability as we help brands grow into new retail channels and product categories.
Innovation
The outdoor industry has come a long way in product innovation since skiing and snowboarding's inception. From lighter boots, faster skis, and warmer jackets, the growing competitive landscape is forcing brands to bring more technology to their products to stay competitive and relevant with consumers. Marmot's 3D warm cube technology in their new outdoor jacket and sleeping bags will keep you warm even in the coldest environments. I also love the new colors they are offering, which bring more personality and brightness into their product offerings. For more inspiration around product innovations, check out the new product innovation award winners and finalists.
I believe the innovation in the outdoor segment can leverage licensing to fuel further growth. Brands could extend their technology into new categories through licensing partnerships, or brands could add new technology features or new product categories by utilizing the technology of other players.
Passion
I feel that I must mention the passion around the outdoor industry. So many of those I talked to seemed to work in this industry because they truly love being outside experiencing nature's gifts, and they work to create products that elevate outdoor experiences. The show had high energy and a relaxed, fun vibe, which is very different than most trade shows. People were having so much fun showing off their new products; it's like they couldn't wait to get outdoors and try them out with their new buddy.
Conclusion
The passion and loyalty for outdoor brands will enable brand owners to leverage licensing and expand into new categories faster. Consumers want products from the brands they know and trust.
More brand owners should be leveraging licensing partnerships to offer their consumers products they need to experience the great outdoors. Since 1997, IMC has been a top brand licensing agency. Reach out today to schedule a quick introductory meeting to learn how we can help you.