The Top Retail Trends You Need to Know | Michelle Lamb and Leigh Ann Schwarzkopf
The Brand Licensing Podcast
April 30, 2021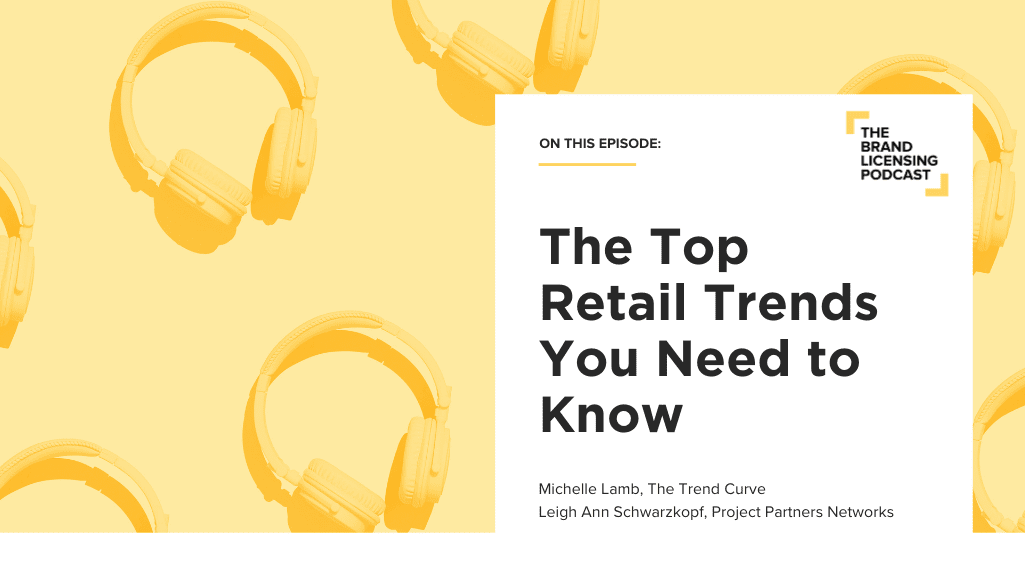 Today, we're welcoming our first-ever duo to The Brand Licensing Podcast! Michelle Lamb of The Trend Curve and Leigh Ann Schwarzkopf of Project Partners Network are talking about the top retail trends you need to know.
About Our Guests
Michelle Lamb is co-founder of Marketing Directions, Inc., and Editorial Director for The Trend Curve™. Her company provides home furnishings trend strategies and consulting, color-and-trend forecasts, color specifications, trend reports, retail reconnaissance studies, trend seminars, and workshops for retailers, manufacturers, and trade associations around the globe. Her company celebrates its 34th anniversary this year.
With more than 20 years of marketing, licensing, and retail experience, Leigh Ann Schwarzkopf has provided the industry with management-level expertise in all areas of marketing and licensing. Her company, Project Partners Network, is known not only for delivering insights into marketplace trends but also for the strategic, smart, and savvy ways in which they turn those insights into practical initiatives for client companies in housewares, food, toys, and other categories.
Check out the new episode below, or tune in on Apple Podcasts or Spotify. Don't forget to subscribe!
Episode Transcription
Emily Randles: Hi Michelle. Hi Leigh Ann. Welcome to The Brand Licensing Podcast.
Michelle Lamb: Hi.
Leigh Ann Schwarzkopf: Hello.
EWR: I'm so excited to speak with you all today and get some insights on trends and stuff that you're seeing in the marketplace. But before we jump in, the initial question first, is this your first podcast, and what's your experience there?
ML: Well, I think it's the first one for me. I've done a lot of video and nothing so far that's just audio.
LS: Yes, the same for me. We've done video. We've done a lot of in-person presentations, but no podcast. Thank you for inviting us.
EWR: Great. I'm glad you guys were able to join me today. Before we jump into my questions, can you guys give us, I know you work closely together and consult with clients, but can you give us a little bit of your background individually and then how you all work together?
ML: Well, I'll start. I have been in the color and trend forecasting business for, gosh, too many years to talk about, but I started my career at Target where I was a retail buyer. When Target decided to create a trend merchandising office, I was the first hard-line trend merchandiser. I went from Target to The Trend Curve, which is my company, and I've been doing it for years.
LS: I've been working in licensing for, as Michelle said more years than I care to count both as a licensee and a licensor supporting across various areas when working in anything from home and housewares to gift and strategy.
Every day is different, that's kind of fun. I'm a jump in a little bit on how Michelle and I work together. We found that we balanced each other very well. She's got the creativity and the vision and she grounds me and the strategy and things like brain science. We just did a great presentation where I got to dig into the brain science behind retail and display and trend. Then Michelle brought it home with real-life examples. I think part of the magic of working with Michelle is that we do balance each other and have that science and art point of view.
EWR: That's great. I can imagine that's really beneficial, both in terms of advising and then just really thinking through new ideas and what's in the marketplace.
LS: The only point of tension, and I will say this very candidly, as Michelle left Minnesota, where I still live, is moved to sunny, Southern California. She lords the weather over me six months out of the year. It's gotten pretty bitter on some occasions.
ML: No snow, no mosquitoes. What's there to complain about here.
EWR: Oh, wow. Well, I know you should be on the trending to warm, but you're not quite warm yet in Minnesota, I would imagine.
LS: We've had a couple of really nice days and it's getting warmer. We're into typical April weather now. So I can't complain
EWR: Good. The light at the end of the tunnel.
LS: Exactly.
EWR: Jumping in here, I know you guys have a lot of experience with trends and even guidance and licensing for our conversation today for our Brand Licensing Podcast, we really want to focus on those trends that are more relevant to licensing. But saying that, I know that would probably be the most trend because licensing spans across so many categories and products. But with that being said, can you talk a little bit about what top trends you're seeing that licensees and licensors should be paying attention to?
ML: I'll start on that one. Two trends pop into my head right away. The first one is sort of a 30,000-foot trend and it's an interest in authenticity. It's something that applies to everything from natural materials and sustainable living to characters and personalities that feel, feel real and approachable, and true to life. That doesn't mean that fantasy isn't relevant anymore. It certainly is, but details and attributes that are less than perfect are no longer considered flaws.
Instead, they're kind of perceived through a "wabi-sabi" lens. That's where beauty is found in imperfection. One of the examples of that would be a new trend called "Japandi" which's a soft, contemporary global trend. It's interesting because it has dual roots. Half of them are in the Scandinavian simplicity that we've been embracing for several years and the other half are from the Japanese rustic minimalism that emerged maybe two years ago and it's been gaining traction. If you think eastern wabi-sabi meets Nordic hygge, you've got it.
EWR: That's awesome.
LS: Michelle, you've also talked a lot about cottagecore and that's kind of counter to Japandi things. I think that it would be great to share with Emily and the listeners your point of view on cottagecore. What is it first?
ML: Cottagecore is the evolution of farmhouse. I think everybody knows farmhouse, but in this case, we're going to leave the pickup trucks and the hay bales behind. We're going towards something that is connecting more with sustainability and romance. In fact, Cottagecore really does celebrate simpler times. It embraces harmony with nature, the purity of outdoors, and this escapism, from the modern world in favor of maybe the comfort of home, which in a way you might be saying to yourself – isn't that what we've been through the pandemic?
The answer of course is yes. It's one of the reasons why cottagecore is trending. It's romantic, it's nostalgic. It has vintage references and anyone who is old enough to remember the 1980s country will look at this and say, it's the closest thing to the eighties country we've seen so far.
LS: I think just to build a little on that, Emily, one of the things that I love about hearing Michelle talk about these trends is thinking that licensees and licensors are not just competing with each other for a share of mind and love of consumers. They're competing with non-licensed things, too. It's so important to stay on top of these trends and figure out how to incorporate them as Michelle says in an authentic way, how to put those in your assortments and your displays and everything you do.
ML: There's one hallmark of the cottagecore trend that I think will have broader implications go way beyond cottagecore, and it's about scale. Flowers are a big, big deal for cottagecore. But you dropped the scale way back. Maybe not quite to the eighties did see size as we called that teeny scale before. But as compared with the overblown blossoms that we've seen in the recent past, the scale is going to feel really small. That's going to inform the scale of many things, not just print and pattern, but we're also seeing smaller scale coming from home construction where people have started to say that open floor plan thing.
It looks fabulous. But when I have the potential for homeschooling and working at home and baking at home and all of these different functions, I want more walls and doors. We're getting smaller spaces again. This is the cottagecore drop-in scale for florals is just another way of saying we're going to have a scale-on product that fits the scale of rooms in our homes. Does that make sense?
EWR: It does. Really interesting as I think about just where the housing market is and how we are evolving and living in spaces more. It's the office, it's the schoolroom and it's the TV and relax room. I think it does make sense to separate those out, but make it feel homey and useful. You guys are doing a great job, really developing and talking through these trends and using words to visualize them. I love this form of the podcast because you guys beautifully are describing what you're seeing.
It also takes me to the trend of when you talk about smaller scale, the small homes that are popping up both from an environmental standpoint and from a housing standpoint. Any thoughts on that trend?
ML: I think that people want more space. But one of the places that they're getting it is outdoors. We're really seeing a great interest in the outdoors and we're seeing a shift there, but we do know that consumer home buyers' wants have shifted because of the pandemic. I mentioned already more walls and doors, but also people are looking for multiple office spaces. One of the biggest asks right now for new home construction is not one but two spaces in which to put an office in one place will be sort of a typical size Rome. It'll be an office like we've always had.
The other space might be; you might call it a niche office or a pocket office. It'll be tucked away someplace in a space that in the past might've been just some underutilized space. Now we have a nook in a hallway, or we have a revision closet. All of these things are becoming private spaces and maybe it's not for an office, but maybe it's for homework.
EWR: It'll be interesting to see how the vaccine rolls out and people are getting more and more outside how these can I shift and how these spaces are used moving forward.
ML: Right. People are also looking for places to store things. Do you think after this pandemic that you will ever allow yourself to be without a spare package of toilet tissue? No. Or paper towels or maybe paper napkins if you use those.
Pantries and storage spaces have become really important as well. If we ever decide, we don't need that again, and maybe in time, we'll all feel more secure in supply chain issues, we'll find ways to revamp those spaces and just something else.
EWR: Yes, for sure. I know we recently just bought our new house and that was one of the key things is a pantry and a basement. Must-haves on our list. Speaking of things shifting, can you talk about retail and how licensees can shift their sales strategy to adjust for the current landscape changes?
ML: Well, the first thing that I would say is you got to be nimble with your trend assortment. Just as an aside to that, you have to understand what is, and isn't a trend. Everything that sells well is not a trend.
In fact, if it sells well day in, day out, it's probably core and not trend. The trend in core items, both do heavy lifting and assortments, but they have different goals and responsibilities and they carry different amounts of risks. Anyway, be ready to make adjustments based on sales and unexpected turns of events in your trend assortment. For most people that's maybe 30% of their entire line is devoted to trend.
LS: From my point of view, I think the shift that everybody needs to pay attention to, whether you're a licensee or a licensor, is omnichannel. Forbs have another name for it. I can't remember what it is off the top of my head, but it's the idea of you need to be where the consumers are when they want with the right product, the right price with the right promotion.
Whether you're a big company that needs to learn how to be nimble or a small company that needs to think broader, those are really critical skills and going to be critical to doing business going forward. It doesn't always have to be expensive. A lot of the examples that we've uncovered are anything from making sure there's a consistent experience in-store and online. Your personality is represented in your Instagram feeds or that if you say you have inventory and someone buys it online, that when they show up to pick it up curbside, which we do not think is going away in any case that the inventory is actually there.
You want consistency from the first interaction to the last interaction. Some of the really fun things we've seen are around that last interaction like Neiman Marcus did. But it's how to bring an experience to life across channels. Other ways that you need to think about it are that personal experience with, on the selling floor. Again, whether you're a licensee or a licensor, how do you have somebody available to answer questions? I think particularly important for retailers and licensees, but how do you have someone there to answer questions and deliver a personal answer. And personal doesn't have to mean that you have someone there 24/7. But it does mean that you get back to people that you're responsive and responsible with the information you deliver.
I saw something a couple of weeks ago from a UK-style psychologist, retail psychologist talking about safety is not only a kind of an overt thing, but it's a covert thing. You have to make people feel safe all along the buying cycle. Whether you're selling to a retailer or selling to a consumer, and there are triggers for that along the way, and having choices and delivering on your promises are things that help you achieve that.
EWR: And how can licensees work with the retailers to accomplish that? What does that dialogue, what should they be asking or how should they be starting that dialogue?
LS: I think it starts with the licensor often. I think having an umbrella strategy around, what tools are there, whether it's graphical interface or graphics and top to top meetings to talk about how something can be represented or other than just a single product in a single department. I think that's important. I think having data is something, a licensee and a licensor can work on. That can be both syndicated data that may be the licensor has or information that's shared across licensees.
Licensee is having success in these 12 retailers. Licensee B would probably love to know that so that when they go in, they can say, we know this as well in your stores, and here's how we can supplement it. Both the licensing and the license, or a need to push the envelope on that.
Data is not always just numbers on a page. Data is pictured in your mind that you can communicate in a method like a podcast or visually in a webinar or in a presentation. But what does it look like? I don't just want to know that it's sold. I want to know where it sat on the shelf. What did the product look like surrounding it? If it didn't sell that it may go to the show floor. Was it in the wrong area? One of our favorite examples is what did the product look like surrounding it? If it didn't sell that it may go to the show floor.
Was it in the wrong area? One of our favorite examples is it was a company. I think it was called Cascade Water and this particular beautiful packaging, great flavors on-trend product. The retailer, who shall remain nameless, merchandised it next to the Cascade dish shelf. If you just look at the data, you're going to say: Oh, this product didn't do really well. But if you seek out a broader context, which both licensees and licensors should be doing, you'll have an explanation for that. This is why it did well. This is why it maybe didn't do well. Let's try this. I think going to a retailer with a solution rather than: Oh, it didn't sell fine. Let's move on to something else is a great approach. I just think the data, the tools thinking bigger picture are critical. Michelle, what do you think?
ML: I think that there are a number of tools that can be used and probably nothing is better than, you know, great display tools, signing and packaging, and graphics always in. I keep coming back to a trend. All of these things that work with the trends and then of course color is certainly part of that.
LS: I just thought of something else I think is really important. I think for both licensees and licensors is to understand the selling cycle for the specific product is also really important. I think too often there'll be conversations going on and the licensor has expectations that this will get placed. I'm working on a project right now as a matter of fact, where the very first possible retail placement of this product is December 2022.
People would go like: How is that possible? That's so far away, and it has nothing to do with product development. It has nothing to do with the supply chain. It has to do with the selling and buying cycles at retail. It's like there's one line review. I think making sure that there's open and clear communication.
EWR: It's definitely a noteworthy point because we actually are having conversations when we're talking season 2024. To your point, it is, it's all about the retail cycle. I've even heard recently that with everyone shifting to work from home, that retailers are more efficient and in their setting up there ahead of what they normally have been. So pushing, planning out even further.
LS: I just heard that many retailers have canceled line reviews because they felt in an environment. We've just been going through it, it's more important to keep the wheels moving smoothly than it is to introduce new things. There's going to be some hiccups going forward. That's why it's even more important. 2024 though, that's terrifying to think about.
ML: It's not only hiccups in those kinds of things, but we've had supply chain disruptions. Putting my old retailer's hat on my old retail buyer hat from many years ago, I'd be thinking, let's add time into the timeline so I can make sure that I'm going to get delivery of everything that I want. So could be pushing out some of these selling cycles. But people who are good at forecasting will still do well Even if the timeline is pushed out another couple of months.
EWR: You're 100%. Spot on. If we are hearing probably even more now than peak COVID of the supply chain issues, really impacting sales and distributions, I know that's having an impact. I think what some people are feeling, I was like: Oh, well, you know, things are getting better and more back to normal on it. From a supply chain issue, that is definitely not the case.
LS: I'm hearing. It's going to be August before we have resolution on even the Suez Canal issue, which seems unfathomable.
EWR: Right. I think the also interesting thing that as we talk about the retail shift and canceling line reviews and stuff. But one thing is more of this shift to online. I do think more products are online and having the ability to order them online versus it having to be on the shelf has been a benefit to some brands.
And so being more visible and just even people more normalizing that order online, which I think COVID really kind of forced, forced the hand for, for some probably segments and demographic.
Thinking of retailers, we've kind of covered this a little bit, but any things specific that brands and licensees can do to help market and advertise their products that retailers are looking for.
LS: I'm going to jump in and say that this circles back to what Michelle was saying about authenticity. They want brands, products that stand for something and act, as they say, it's no longer enough to just give some money, you have to do something. Well that being said and I think that's really true. I've heard that we've been, doing our research. We find that you can, there's a lot of forgiveness out there as long as you're transparent in what you're doing and authentic in your efforts.
We've also been hearing a lot from retailers that they want their manufacturers and their licensors to understand the consumer. Don't come to me with something that my consumer is not looking for. Tell me why they want it, how they want it when they want it, and demonstrate if fluency in the customer you're trying to serve, because there's just so many changing dynamics. I've heard today, I just heard somebody talk today about, the most important role right now, as a chief information officer.
Someone that can help provide insights so that when you go to a retail presentation, you can have targeted information. I think that authenticity that's going to resonate with the consumer and an understanding of what they need and want. What they're looking for right now.
Of course, price is never going to go away and we always have to provide value. But I think those are the two new things people need to be aware of.
ML: I'd say that in all the years that I've devoted my career to color and trend, I've never seen a moment in time where we're crossing categories for all the same kinds of emphasis to come forward in every single avenue. The financial stuff dovetails with the trends stuff. It's all being impact by authenticity.
I would say that we talked about Japandi, we talked about cottagecore. They're both really authentic trends. There's another one that we call elemental and that's a trend with a character that you might just refer to as earthy. But that makes it a perfect fit with today's emphasis on equal responsibility and sustainability.
All of these social things are coming over on the trend side. So have this elemental trend that is naive and raw and handcrafted, nothing matches or repeats. Everything looks like one of a kind. It connects with that whole Etsy attitude and all of this is adding to the perceived value of trends. I see these topics acting as huge umbrellas over all kinds of things that ultimately result in assortment planning.
LS: I think that takes me back again to something we talked about a little before, the whole idea of the, for lack of better terminology, the top to top, but how do you create what a consumer is going to have in their home? In a home, you're not going to have eight feet of product X.
You're going to have product X next to product Y, next to product Z, a blend of styles, a blend, or whatever. I think retailers are looking for ways to mix and match, whether it's styles or licensed properties or whatever, but I think that's part of that whole knowing your customer and being authentic to their needs.
ML: What it means is that now more than ever, we have to keep our ears to the ground. We have to understand lifestyle influences. We have to understand consumer priorities. Sometimes we don't get a lot of lead time.
That takes me back to be nimble with your trend assortment, be ready to turn, shift, bob, weave, because we have a consumer now that is not fickle, but constantly influenced and ready to demonstrate that they've embraced something that is an evolution of their prior thought. They're ready to do that and show it through their purchases.
EWR: That makes a lot of sense.
One question I have for you guys is just if someone is looking, especially maybe some of these smaller companies and they know that they need these insights and these trends, but like I can imagine retailers aren't necessarily sharing the data that they have on their consumers.
Like how can a licensee engage with a consultant or like, where can they get this trend information so that they can, you know, as you talk about quickly shift or quickly adapt to what's ever-evolving right now?
LS: There are so many sources out there. I think keeping your eyes and ears open. Tune in to trade publications, sometimes your competitors are putting on shows or putting on presentations. Certainly, trade shows are great ways to get information.
But at some point, just raising your hand and saying, I need help. I need someone to help me find this and then balancing the secondary research that you find. There are so many tools right now to do primary research, where you can; primary research no longer has to be 16 months on $150,000. You can turn something around in two weeks that gives you just what you need to present to retailer X.
It can be accustomed to your project. It can be accustomed to your, whatever. You can do it for order magnitude, less than 10% of what historically, or would have had to do it and turn it around, like I said, literally in a week to two weeks.
ML: I'll build on that by saying that lots of people have time to look at the market and know their own customer and really pursue information about that customer. But if you don't have that time and you want to tell someone a few things about your goals and have a project returned. Leigh Ann and I do this, this is what we've been doing for years, all day, every day, devoting ourselves to our clients and customers' success by giving them the tools they need to be as nimble as they need to be.
LS: The other thing to think about and we try to provide is that the balanced perspective. Everybody says, I went into Target, I went into Walmart. You went in to one Target and one Walmart, six miles from your home. That doesn't give you a point of view from across the nation, that doesn't give you a point of view for what's happening in other markets. Doesn't give you the point of view of what's happening in other categories. Whether you do that yourself, or you find someone to help you with that, those are critical things that you need to, I'm using the word critical a lot, but we're at a critical juncture.
EWR: Now 100%, I'm sure Michelle's move to California maybe helped you in that research.
LS: We actually have been blessed to have. I think when we, we did a Valentine's project not too long ago and we covered, I think it was 160 retailers in five continents.
ML: Yes, absolutely. We have teams around the globe that are out there looking. Especially as we all are recovering from the pandemic, everyone has something that you can learn from. Not necessarily repeat, but definitely be inspired by. We've got teams all around the globe that are looking for those special things that we can show people and help them to craft their own strategy for moving forward.
EWR: Now that makes a lot of sense, and I'm glad that we're even talking and interviewing because there are times when I have a licensee that they're taking on a brand, cause they know that they need the equity and they know they need the brand will help differentiate them in the marketplace.
But they don't necessarily have the staff and the capabilities to do these deep dives into trends and kind of what's going on. I think, especially when they're using somebody else's brand, right? They know their product really well, but they have to better understand the brand that they're licensing and that consumer and the thinking behind it.
I think knowing that people like yourselves have these services and capabilities. I would imagine there's a scale to, helping out a smaller startup kind of company or a licensee that's just getting going and you can really add value.
LS: Yes, you're absolutely right. One of the things we find is that one size does not fit all. In addition to challenging licensees to do their homework, I'm continually amazed at how receptive licensors can be to help. We live in this silo. We know this, we know our brand really well, but we don't really understand what's happening in the general marketplace.
Help us understand that so we can serve our licensees better because the better we do together, the more chances we have at retail. I think there's a special result that comes from something like that when everybody's pulling together in the same direction, pulling their orders together in same direction, that they're not.
The worst thing to do would be to take on a license and have everybody operate in a vacuum. I've seen that too, where there's not a lot of information sharing. It's just; send me your royalty check quarterly. Well, that's not going to help anybody grow their business or meet their objectives.
EWR: Leigh Ann, you brought up a point at this point earlier, which I wanted to comment, on is having licensees talk with each other and share that data and what's happening with them at a retail. I think in the past it was that unpacking. No, you can't talk to anybody else. Almost afraid of what they would be sharing.
LS: There are ways that people are doing that too. It doesn't have to be, Emily's company is selling this and Michelle's company is selling that and Leigh Ann's company wants to do this. It can be an aggregate; we've got 28 licensees that are selling products at Walmart. The next biggest account is public. Maybe, and there are 27. That leads you to think, those need to be at the top of my list. I don't necessarily have to know what the categories are, although that certainly helps, but any data is better than a vacuum
EWR: One trend I'm curious to just ask you about, and it it's even interesting that you guys just mentioned, seeing what you're seeing in your hometown versus, across the globe, but something that I've seen more recently the stores within the stores and like how specifically Target has really shifted their health and beauty section and really opened it up and made it feel more Sephora-like than the traditional isles.
Any thoughts on that trend? You think it will kind of evolve into other categories?
ML: When we see Target starting to set up shop within kinds of strategies, it's just one more, you know I worked for Target for eight years, so I love those guys. But it's just one more way in which they are blurring the lines between mass merchants and department stores.
LS: It gives somebody like Target, something special to have that collaboration with Alter, that collaboration with Disney. I don't see those collaborations going away. I think at Beaumarchais that they have in Paris, they have the Louis Vuitton section is not just a bunch of hangers on a wall.
The one that we saw recently, the whole section was like a big fancy hatbox, and your walk into this environment and it was just, it was lovely. I do think that those kinds of collaborations are going to continue. I think, especially when they bring a different design sensibility.
I think it was two years ago, we started seeing Anthropology and John Lewis doing a home collection. You don't normally think of those two together, it was just a really nice way to meet, reach a new customer in a different way, catch the eye, catch the attention, generate some buzz.
I think that's a great result of some of these collaborations and they don't have to be forever. Think of some of the projects Target has done where they've brought in a special designer or a special collaboration for four to six weeks, and then it's gone. Then they move on to something else.
There are other ones that stay around for a long time because they successfully meet a need. I think that's part of what Michelle was talking about the magic of trend. It's like balancing that, what do we need in our core? What should be there every day? What is what we stand for customers to come in to see? What percentage of our assortment should be that thing that you walk in and go, wow.
We did some research and Ipsos had a study that they published a lot, I don't know, several months ago. They referred to it just a couple of weeks ago, but something like 49% of shopping is tactical and 51% of it is I want to go in. I want to be surprised. I want it to be social. I want to try on something, touch it. I want to have that experience.
Your challenge as a licensor or a licensee or a retailer is to find the blend that works for you so that you can be there at the right moment for the right customer, with the right product, and give them both their tactical and they're delighted to experience.
ML: Yes. It's about creating environments that, and those environments become experiential. I love the shop within concept.
LS: There's a lot of different financial metrics or things like that too. It could help alleviate expenses. It could for one party and add expenses to the other, you just really need to carefully look at it and see what are the objectives.
EWR: Great. Well, just wrapping up here. We've talked a lot about trends. This is a little bit of a repeat, but looking ahead into 2022 and just beyond, as we see things evolving. Any predictions, things that you guys think are up and coming?
ML: Let's start with color because I always start with color. As we come out of the pandemic, as we begin to heal, as we begin to emerge, we're really going to have to rely on color and color will be a big part of the story.
We've talked about being comforted for example, and there's a range of colors that we're calling mineral colors that would include things like browns and clays, not really earthy colors, but certainly organic colors.
These hues are going to help us and support us as we come out of lockdown and the separation and all of those kinds of things. In my forecast, I see more mineral colors, but I also see absolute brights. In fact, not primary brights, but neon brights.
We haven't seen brights like this since the 1980s, but if you're following activewear at all, you're probably seeing it there. We're seeing it already in some luggage. We've started to see it in categories like paper and stationery, but we're going to be seeing it in other categories as well.
Not huge whole fields of neons, but accents and bits and pieces that say, okay, in the midst of all this comfort that I need and want, I'm still alive in here and I'm still energetic and I'm optimistic about the future. And that's what those neons will represent.
From a color standpoint, those two things. Just one more thing, if I may, and it's about the realm of neutrals, you might have noticed that during the last year, we haven't seen a lot of black and white contrast.
It's been too stark in a way. It's been too metaphoric. We've wanted to avoid that, but we'll be looking at soft neutrals, warmer neutrals that might have more yellow in them. They might have more, let's say brown in them, but things that can dovetail with those mineral colors and really give us a less graphic and less vivid foundation for things like the decor. From a color standpoint, that's what I'm forecasting.
LS: From my point of view, I think what's going to continue and become more important as the whole idea of multi-channel. Being available to customers, where they want it, being responsive. Knowing your customers through visiting stores, whether they're online or in-person, checking data of all sorts, both the syndicated data and the data you can get from other scrappier sources.
I heard somebody the other day who I absolutely adored; she was a sales trainer out of Germany. She said, don't think of having satisfied customers, think about having happy customers, because of your happy customers. They're going to remember you. They're going to come back. They're going to buy more. The satisfied customers are just not satisfied. If you only think in terms of satisfaction, you're promoting mediocrity. I thought those are really great words to live by.
EWR: That's great advice. Great insight. Well, thank you both for joining us today. It was a pleasure getting your insights and thoughts. We may even be reaching out in the future. I'm sure there are plenty more trends that we can dive into.
ML: Well, it was fun. Thanks for having us.
LS: Thank you.