2nd Annual Licensing Summit in New York
Julie Brown
March 7, 2017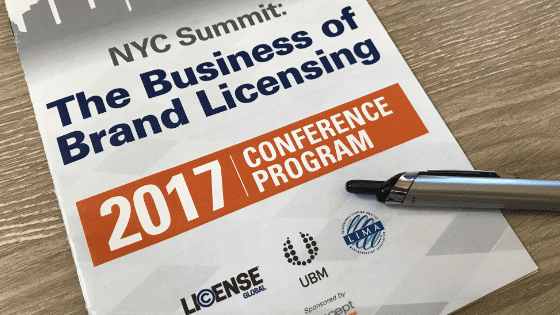 It was our first year attending the 2nd annual Licensing Summit in New York and we're so glad we added this conference to our schedules. We were anxious to get back to NYC to network with our industry colleagues and this conference did not disappoint, with over 300 attendees, 12 fantastic presentations and 3 diverse panels. A few themes continued to pop up throughout the conference that affected most segments of the licensing industry:
Retail Disruption. We heard a lot about this from the fashion brands but also from the retailers. Obviously, physical store locations are no longer the only source for buying goods. Ken Wyse, of PVH Corp, suggested that many retailers over-expanded their retail locations in the early 2000's and are now being forced to scale back to an appropriate number of locations, "Perhaps, the headlines aren't as totally disastrous as they seem with announced store closings – but rather an appropriate scaling back".
Due to e-com sales, retailers are scaling back physical locations and trying to figure out pricing of standard 2-day shipping, which is now the industry norm. Many competitive e-tailers are offering consumers multiple outfit choices, of which the consumer picks what they want from the shipment and sends back unwanted items (think Stitchfix and others). It was questioned at the conference if this was a sustainable model and how are more traditional retailers going to compete with these types of services?
Consumers now have an infinite number of choices/brands to choose from both online and in stores. How can brands and retailers keep their brand names front of mind with consumers? Many speaker discussed how important licensing is to this challenge and the importance of a brand telling a story. Several speakers talked about using social media to tell their brand story and connect with the consumers directly. Yehuda Shmidman, CEO of Sequential Brands Group said, "It used to be that the customer (retailer) was King, but now the consumer is King. Know who your customer is!"
Experiential licensing and partnerships! Millennials are less product focused and more experience focused and therefore branded experience have seen recent success. A few examples we saw at the conference:
Global Licensing. 10 years ago licensing was mainly a US business, X% of licensing sales where done in North America and only Y% in international markets. That ratio has shifted significantly with international markets growing Z%
Jamie Stevens, EVP of Sony Pictures Entertainment, gave a wonderful presentation on doing business in China. She noted that China is a huge market for licensing and that the "one child" rule paved the way for a Chinese millennial generation to become very product and brand-specific focused. This generation has disposable income to buy branded products, especially in tier 2 cities.
There is a lot of affinity for American brands in China (when the Chinese gov't allows them). Chinese consumer is very different from American consumer. Brands that are seen in the US as "not cool" are indeed very popular in China.
Insights. When I saw Eric Beder from Wunderlich Securities, an equity research firm, on the agenda I was scratching my head, what's this guy have to do with licensing? However, when he was introduced we were told he was back at the conference by popular demand and wow, I couldn't agree more. Eric provided us with some industry insights from market trends. While everything he said was very helpful and insightful two things really stuck with me.
Great process with weak product = dissatisfied customer, every time! While this seems like a "duh" statement it really resonated for me especially within licensing. So many times a licensee thinks they can slap a pretty package and a well-known brand on a product and it will sell. But if that product is not a good quality product the customer will be dissatisfied and it will fail. I've seen this happen several times. Don't let your licensing program fall victim to this.
Brands are still the best hallmark of products! This is a true testament to the industry, and as a consumer myself I have to agree. The brand matters in my purchasing decisions. It's not everything but it's definitely a big piece even if this happens subconsciously.
Overall it was a great conference and I would recommend it to those looking for industry insights and trends. We will definitely grab our tickets for next year when they go on sale.