Licensing Show 2017
IMC Licensing
June 5, 2017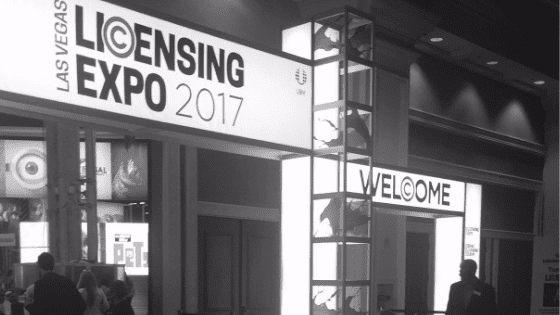 Like many industries, once a year the licensing community descends on Las Vegas, Mandalay Bay.
The show offers something for everyone:
This is RIDICULOUS. @licensingexpo #licensing17 @JurassicWorld #JurassicWorld2 pic.twitter.com/9iQ1SGI9UF

— Matt Raithel (@raitheoshow) May 24, 2017
There were over 16,000 attendees and 185 new exhibitors.
New to the show this year was the Property Brothers (Drew and Jonathan Scott) promoting their housewares brand Scott Living. Not only are these guys great at interior design, they are super nice and very passionate about building their brand. They spent all day Monday at the show and are very involved in their licensing programs.
Lots of exciting #ScottLiving projects coming up! #staytuned #licensing17 pic.twitter.com/WW2FgTHkCi

— Jonathan Scott (@MrSilverScott) May 24, 2017
One thing that really stood out to me was the amount of Hollywood properties that were being promoted for licensing opportunities. Netfilx, Amazon, Hulu and Prime Time TV networks are fighting for viewers and therefore creating an abundance of customized content. With so many new hit series and characters there are several more licensing opportunities! My favorite show The Walking Dead even took home the LIMA award for best licensed digital product.
The competition between kid's entertainment properties always overtakes the show. Disney, Pixar, Sony, MGM, Paramount had several of their characters walking the show floor. Iconic characters seem to be making a comeback. Power Rangers, Smurfs, Super Mario Brothers and Tele Tubbies were everywhere and likely walking out of the show with several new deals for their brands.
Pet Age attended this week's Licensing Expo in Las Vegas and ran into some familiar faces: https://t.co/iZpb8CJiyE #licensing17 pic.twitter.com/2kR8k60E22

— Pet Age Magazine (@PetAgeMag) May 27, 2017
Overall, it was another great year for the licensing show, and I am looking forward to what next year brings!
In the meantime, check out our blog for the licensing industry articles, trends, and more!