The Brand Licensing Podcast – Launch Lineup
The Brand Licensing Podcast
July 23, 2020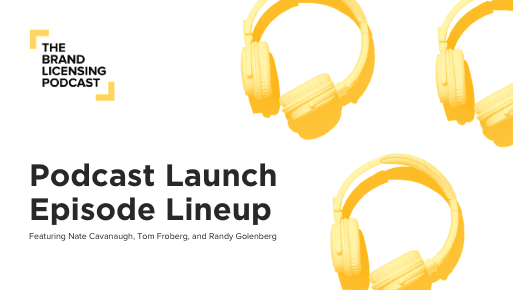 We're counting down the days until the launch of The Brand Licensing Podcast and can't wait to share our upcoming episodes! From software to style guides, the launch lineup is jam-packed with guests from across the licensing industry. Check out the list below for a full breakdown of our first episodes.
Nate Cavanaugh, Brainbase
Nate Cavanaugh is the co-founder and CEO of Brainbase, a platform that helps brands manage and monetize their intellectual property. Launched in 2017, Brainbase works with globally-recognized brands that generate billions of dollars in sales from their intellectual property. Brainbase is based in Los Angeles and has raised more than $12M from leading venture capital firms in San Francisco, LA, New York and Europe.
Prior to Brainbase, Nate was the founder and CEO of Guuf, an esports tournament platform, which was acquired in June 2016.
Tom Froberg, StyleWorks
Tom cofounded Frederick & Froberg Design Offices in 1987, where his versatile design and illustration background led to the company's specialization in style guide development for brand owners in licensing. He excels at combining contemporary culture with the essence of a brand to create a seamless point of view for branding and licensing design extensions, having developed identities, style guides, marketing communications, websites, product direction, and packaging programs for a number of leading lifestyle and entertainment clients.
Never afraid to mix business with pleasure, research and brand immersion are often Tom's favorite parts of the job, whether hang gliding for Kitty Hawk Kites, driving a NASCAR for Hot Wheels, or digging through the archives of the Rock and Roll Hall of Fame.
At StyleWorks, Tom is responsible for client services, business development, and operations, as well as overall branding strategy and creative direction, lending his experience and expertise to a new generation of products, properties, and brands.
Randy Golenberg, Spark Your Brand
Randy Golenberg has over 25 years' experience in retail marketing. He cut his teeth working for the family business, where they manufactured adhesives and coatings and sold their products into Home Depot, Lowe's, Walmart, Target, Sherwin-Williams, and ICI. He left his family business 14 years ago and began helping other manufacturers and service focused companies that needed guidance with marketing, merchandising, point-of-purchase displays, and packaging.
Randy started Spark Your Brand agency in 2002, and as of today, they have developed, designed, and produced over 2000 projects. Based in Cleveland, Ohio, Spark Your Brand Inc takes a fresh approach to marketing. They are a community of people who believe that everyone can live better through the stuff they design, develop, and how their customers invest in there marketing. Their mission is deeply rooted in quality, transparency, and community-driven values.
If you haven't already, check out our podcast trailer to hear what's in store at The Brand Licensing Podcast and don't forget to come back on Monday for our official launch!