The Future of Sports Licensing | Terése Whitehead, NFL Players Association
The Brand Licensing Podcast
November 18, 2020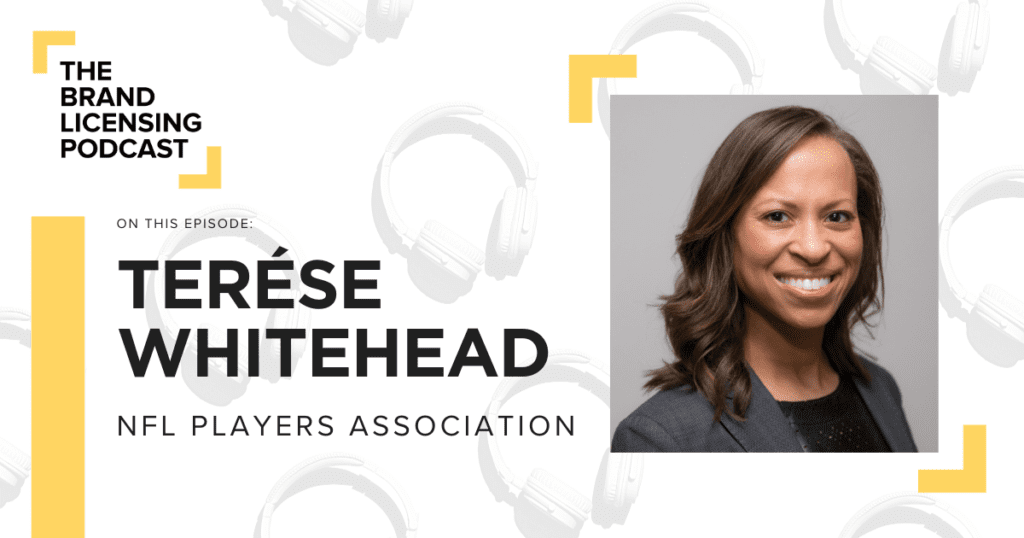 Get ready for today's guest on The Brand Licensing Podcast, Terése Whitehead! While Terése is currently keeping score at the NFL Players Association, her expertise spans the sports and licensing industries alike.
As an expert in branding, advertising, and athlete representation, Terése shares her insights on this can't-miss episode.
Listen to the full episode below, or check us out on Apple Podcasts or Spotify. Don't forget to subscribe!
---
Episode Transcription
Emily Randles: Hi Terése. Thanks for joining us today on The Brand Licensing Podcast! We're happy to have you.
Terése Whitehead: Hi, thank you so much for having me! I'm really excited to chat today.
ER: Our guest, Terése, is Senior Manager of Sponsorships and Operations for the NFL Players Association. She has an extensive and impressive background in sports marketing and licensing, and we're excited to talk with her today. Before we get started, can you give us just an overview of your resume and your experience so far?
TW: Sure. I have been in the sports industry now for, dare I say, over 20 years. I have served in a number of different capacities throughout the industry on the agency side — more of the brand and sponsorship agency side, as well as NBA team NHL team — working with athletes directly in terms of representing them and then finding myself on the player union side now at the NFLPA. My sweet spot is in branding, advertising, athlete representation, and now, the licensing and marketing of players and utilizing their group rights from the NFL Players INC.
ER: From our experience at IMC, licensing is really key around relationships and we find it's important that our clients and licensees have good relationships and partnerships, and it's not necessarily just a transactional thing. In reading an article that you're quoted in from License Global, it sounds like you feel that relationships are an important aspect of working with athletes as well. Can you say more about how people should be thinking about relationships within these types of partnerships?
TW: Yeah, absolutely. One of the main things in my 20-year career of working with players and being in sports that I've seen is the inception of endorsement deals where players were asked to represent companies and products based on their on-field and on-court performance, their draft, or even some of the accolades that they've received through collegiate and professional championships. Brands really focused on the star power more than they focused on whether that individual was an authentic fit to their brand and also to their products.
As an example, Grant Hill did a number of Sprite endorsement deals where he was asked to participate in the commercials and represent the brand, which at the time was a huge endorser of the NBA. Well, fast forward to 10-15 years later, Grant Hill is not a soda drinker anymore. So, if Sprite were to come to Grant today and ask him to be a part of a commercial, he probably would politely say no and ask if they had any healthier alternatives under their brand umbrella.
So, I think one of the things that brands do now and should do more of is really thinking about their relationships with athletes as partnerships. These should be people that match your brand mantra, your ethos, and your personality. Everything that you represent should match identically with the athletes that you work with. And furthermore, I think seeking athlete influencers who want to work with you. How do they fit into your brand story, and what will work for the athlete? Everything needs to be perfectly aligned, so partnerships are not one-way transactions.
When brands think about working with an athlete and vice versa, it really should come down to a desire to collaborate. How can we build something together? This should be authentic. This should be real. And this should be something that their followers and fans and consumers see as a great fit and believe in. In short, when brands are thinking about these relationships, it really should be as an extension of their marketing and advertising plans and how these players and influencers fit into that to further amplify the message.
ER: So in your role, do you ever help guide? If a brand comes to you and says, "I really want to work with this person or this team.", do you sometimes have to redirect them based on this?
TW: A lot of the time, yes. It is difficult because brands will fall in love with a player and they think they know who the player is. Tom Brady is probably the one most requested NFL player from our partners. They want to work with him because of what he stands for. They feel like they understand who he is as a person away from being a player, and they feel like he's a perfect fit for them. Well, sometimes, players aren't the best fit because of budget. Maybe brands don't have a budget that could afford some of the services that they want from that player. Sometimes players aren't a fit because they have other existing relationships that are a conflict or they may not have an interest in that brand or in that product.
What we try to do is really listen to our partners and understand what their objectives are and understand what they're really trying to achieve. Luckily with the NFL, we represent over 2000 plus active players and thousands more of formers. One of the things we say is that we will find you the perfect fit. Don't worry. We have a number of players that we can put in front of you and recommend that we know personally are the truly the best fit for you and what you're trying to achieve. That redirection definitely takes the trust from the partner to rely on our expertise, rely on our relationships, rely on our knowledge of these players to help steer them in the right direction and make sure that we're all aimed towards success.
ER: How does your current role and day-to-day work? If a brand is interested in working with a player or a team, can you tell us a little bit more logistically how your role works and how you work with brands and players?
TW: I serve in an interesting role. It's kind of a hybrid between our licensing and player services teams. We have at NFL Players INC., which is the licensing and marketing arm of the NFLPA. We have different divisions that cover our partners. Our partner services division covers sponsors, licensing, and our licensees. Player services is the magic that brings it all together and works with each of our different business units to help with player strategy and also partner strategy to make sure that we're finding the best fit of players for those partners. I would say you could think of us as like a boutique marketing agency or an extension of a brand marketing team. We'll consult with them to understand objectives, understand budget, get their wish list of players, but more so focused on the criteria of the players that they like to work with.
Some people will look for players that have a certain engagement or certain follower base across their social media platforms, or they look for players that are within a certain demographic area. We really get an understanding first and foremost of the idea, the objectives, the players criteria, and then the outcome, most importantly. What does success look like to you? This consultative process takes place, and then, we go to work where we will do the research. We will sometimes come back with those creative ideas that we tweaked or enhanced in some way to really get the brand what it is that they are looking for in terms of outcome. We then make our recommendations for the best fit players to represent the brand and be involved in the activation.
Once we present that all back to the partner, they agree and we go to work. We go out to facilitate the offers to the players and their marketing representation or their agents, do the contracting process all the way through booking them for the appearance, coordinating logistics, and then obviously delivering payment on the backend. So again, we are really a boutique marketing agency that can do as much of the work or as little of the work. It's all customized to the partner and the needs that they have at the time.
ER: Wow. It sounds like the perfect fit, right? If I'm a brand coming to you, you are doing a lot of the heavy lifting and the thinking to get quality partnerships that are going to help meet their objectives. One question I have just based on your description of your all services is how does the business piece of it work? Does the revenue go through you? You talked about going to the partners agents or reps, but how is the deal structured? What does that look like?
TW: There's actually a common misconception about our organization and the way that we represent players. The truth is that we are not trying to act as player's marketing representation or agents. Our priority is to ensure that we're helping our players and our members maximize their potential from a marketing perspective. All players are included and they share in the revenue of royalties from licensed products. It's a little different from maybe a one-off appearance or an endorsement deal. We're helping to facilitate the connection between player and brand through their designated marketing representatives and agents. Players can still go out and do their own deals. They don't have to run everything through us.
An example, Stefon Diggs may have one of our partners that wants to work with him. I'm making it up, but let's say Head and Shoulders wants to work with him. We facilitate that offer with his marketing agency, but if Stefon goes out and there's another product or brand that he wants to work with, he's well within his rights to go do a deal with that company. We're more of a supplement to the players than we are taking that full responsibility on to do their marketing and their branding. As far as payment and what flows through us on the licensing side, all the royalties received are paid out through the NFLPA to our players as part of our group licensing program. Any activation that we book is also paid through our office to the player. We try to make the process really simple for our partners. It's a pretty seamless operation.
ER: If a brand contacts you and works through you guys, you're not charging them a fee since you're working through the players?
TW: It's twofold. We do have our existing relationships that are a part of an NFLPA licensed brand. These are services that come with being our partner. We have an extension of the NFLPA as a joint venture between Redbird Capital, the MLB Players Association, and the NFLPA that is called OneTeam Partners. They are really the business unit that is there if a non-existing partner is interested in working with players from an athlete marketing perspective. OneTeam Partners will negotiate those deals. There are some fees in place for our services, because these are not existing partners. These are brand-new partners that we don't have a connection with. Obviously, there's a lot of work that goes into the consultative approach and process. So, there are fees that are assigned based on the scope of work that we're doing for that brand.
ER: Okay, that's helpful. Jumping back to the athletes and the relationships with them, you talked a bit about how you consider their reach and their influence. You think about them not only as athletes but as influencers. How should brands adjust their thinking, so that they can work and leverage the power of the players?
TW: NFL players are among the most influential voices and leaders in fan engagement on social media, but so are athlete influencers in general. There's a tremendous amount of power in working with athletes because they really produce two types of content that draw people in: their performance on the field and then their off-field lifestyle. It's who they are away from the game, when they take the jersey off, when they take the helmet off, and who are they as people, It's that human element. Athletes as influencers draw a more robust following because you have your avid sports fans who know them by virtue of what they do on the field or on the court, and you also have the subset of fans that are drawn to them just because of who they are away from the game and on social media and the lifestyle that you see. On-field performance translates into the off-field success. It can be in many forms, not only through social, but in the brands that they promote. The products that are created, manufactured and sold by athletes are living, breathing IP. There's just that edge that you get from working with an athlete because there's so much more that comes with that.
Based on one of our partners, Opendorse, which is a social publishing platform, professional athletes drive 11 times higher engagement with fans than brands do on social. NFL players engage their fans 20 times higher than the league itself and 15 times higher than their own teams. That in itself captures the magic of athletes as influencers that you wouldn't traditionally get from a traditional influencer who is just a normal person who has cultivated and curated this lifestyle. The follower base definitely differs. Not all are created equal, but I would argue that athlete influencers spring just a little bit more than a traditional influencer.
ER: That makes a lot of sense. Talking about influencers, we've seen influencers launching their own product lines through licensing and partnerships. Some examples are Who What Wear at Target and a Rachel Parcell's line at Nordstrom. Are you seeing this trend with players as well? Are they coming up with their own product extensions, or is it more of the endorsements?
TW: Yes, this is a huge opportunity for athletes, especially as fashion influencers. Fashion is definitely a part of the culture from a sports perspective. You have your on-field uniform and the number and the name on your back, but then you have your personality and your flare away from the game to further brand yourself.
One of my favorite examples is Marshawn Lynch. He started a brand while he was playing called Beast Mode, which started as his nickname. He took it to the next level of an apparel line. A percentage of the product sales were directed through his 1st Family Foundation. Those are ways that NFL players definitely try to build extensions from their own brands. On the field, they are known for the nicknames that they have, and then they can translate that into products themselves.
Another one of my favorites is Isaac Rochell. For the Licensing Leadership Summit, we did a fireside chat which was one of my most memorable moments in the sports industry. He's just such a great person and really interesting guy. He started a brand called Local Human. Isaac is known for being very community-minded and a social entrepreneur. His company is an apparel company that every time you make a purchase, they donate a t-shirt to a local foster center. A hundred percent of the proceeds are donated to the charity. As far as extensions go, it's not always for personal gain that players are looking to extend and generate an additional revenue source. They're looking for ways to utilize their voice, utilize their platform, utilize their celebrity to do good. I've seen a lot more of those examples, and I expect a lot more coming from NFL players in the future.
ER: Wow, that's amazing. Those are great examples and really show the power of positivity and the power of their influence and how they can make a bigger impact.
TW: I would add that it's not always something that is born from the player creating his own line, but there are opportunities where our players will partner with other brands to create and collaborate on lines or on limited-edition products. That's something else that I think is becoming much more popular and is a great way for brands to engage with players. It doesn't always have to be something that is kind of singular. It can be about what we can build together that you are excited about as a player and that you will help us promote to your community of people. Your fans that follow you will believe in the product because you have had a part in building it. Brands can look at their relationships with players and look beyond just the traditional promotion of a product. They can look to build something together.
ER: When you're working with players, do you have to encourage them to have a social media presence to guide them to have these opportunities? Is that something that's just happening naturally?
TW: That's something happening more naturally. I'll tell a quick story. I've been doing this for 20 years and during my athlete representation days is when Facebook transitioned from being just for college students into a public platform. Soon after, Twitter launched. This was way before anybody even knew anything about Twitter. One of my players that I worked with was Tim Duncan, NBA champ from the San Antonio Spurs. For those of you who don't know him, he is very reserved and quiet. He did not do a lot off the court. He spent his time much differently. If he was going to do an endorsement, it had to be something really special that he believed in Since he preferred to spend his time away from work with his family, he didn't want to be tied up in a whole bunch of things. When Twitter came out, I'm like, "gee, I think Tim should probably be on Twitter." I think he's going to need to use this from a marketing perspective. Well, Tim Duncan was like, "I'm good. I don't really want to do it." I realized if it is not authentic to who you are, if this is not something that you feel is something you naturally do, then you shouldn't have a Twitter. That was 10-15 years ago. Now, things have changed drastically where it is a given.
If you are a celebrity, it's like the new web page or the new website. You don't necessarily need a website anymore. If you have an Instagram or Twitter or Tik Tok, that's how people get their information from you. It's not about reading about you anymore. It's about hearing directly from you and seeing what you like. It's about being able to interact with you and respond to you. I think in the evolution of social media that has been one of the coolest things to see. When this stuff started and being there when it launched to now, it's interesting to see how celebrities and players utilize it as a tool, not only to express themselves but to build brand partnerships, to further build deeper connections with their followers and consumers. It is incredible and definitely more natural. We don't have to push a player to get on Instagram.
There are some players who choose not to be on social, and that is okay. Just like Tim Duncan knew all those years ago, it wasn't for him. We would never encourage a player to do something that isn't natural to them because then it's inauthentic and you don't get the same result. We definitely advise our players on the best way to you to utilize social as a marketing tool, if they need that. Nine times out of ten, we find we're learning things from them about how to utilize social because it's just so innate. It's part of their day-to-day life. I do think brands probably could learn how to utilize and learn how they can reach their consumer through the players and how they're using social.
ER: Where do you see players having the biggest impact with endorsements? What types of products and what types of partnerships?
TW: Oh, this is a good question. I think apparel, and I'll say the gaming market and e-sports. Those are the two where I think players have the biggest impact. The primary reason is because of social media. For me, Instagram has really brought home this see it, buy it mentality where it's instantaneous. It's almost like taking Pinterest and planting it within the code of Instagram where players can wear a t-shirt or after a championship they're wearing a new hat that has a new logo or they're launching a new product. Fans and followers can instantaneously click that picture and buy it. That is the power of the apparel market and social mixed together. That's one area that I think there's a tremendous amount of impact for the brand for players wearing their products and showcasing their products as part of their lifestyle.
With gaming, streaming services like Twitch are huge. It's outside of my age group, but I have a 17-year-old son and he is a gamer. When I come in and he's watching YouTube clips or Twitch clips of streamers I'm like, "what are you doing?" That's his entertainment. I had no idea how many people stream or just watch other people play video games. It's a huge market. From the NFL perspective, we have a ton of players who are video gamers. One of our products with with EA Sports is the Madden franchise. Getting a player online to play Madden with a streamer or Fortnite or whatever other game is popular at the time is huge. It's a huge market not only for the video game company or product but also just from a streaming perspective and for exposure. So
Those are the two categories or areas that I think there's the biggest impact. Not only from utilizing a player as a spokesperson or ambassador but also for the brands. They get the return, and they see it. It's instantaneous more so than just having a product in the store.
ER: I'm with you. Instagram is my channel. Some of the things you were even referencing I don't think I even know about, so I need to do a little bit more homework on that. On the gaming perspective, the players are actually playing the game against another gamer? It's not that the player is being represented in the game, or is it both?
TW: It's all of the above. As an example, I'll just stick with Madden. In Madden video game through our group license program with EA and our partnership with EA, every active NFL player is represented within the game. I love the people at EA because they really take the gaming experience to the next level and build out these amazing graphics and storylines, even down to the players touchdown dances and how players actually look on the field. That's one way that players are represented within the games themselves.
From a streaming perspective, some players have huge followings as streamers. Juju Smith-Schuster who's on the Pittsburgh Steelers is a huge gamer. I don't even know how many millions of people tune in to just watch him play. If he decides he's going to log on and just start streaming himself playing, people tune in like my 17-year-old son and will sit for hours and just watch somebody else play. Sometimes players will play together. You see both of them on the screen, or sometimes the player will play with the popular streamer. Ninja is a popular streamer that you may have heard of. Bringing the power of an athlete and the streamers together does incredible numbers and obviously creates some really special content that can then be repurposed and used for the brand. It's a whole world that I've learned more about then then I was prepared for it, but I really should know a lot more because I think it's the future of a lot of product integration as well into some of these video games. It'll be cool to see how it evolves.
EW: Yes, that is definitely an area I need to explore more too and hope to on the podcast because it is very new to me but really interesting. I know it's a growing market, and it's so interesting to hear your perspective on how it's impacting and influencing consumers and the players' lives.
TW: Yeah, it is definitely a lifestyle. I'm still back playing Super Mario Brothers. I'm years behind where people are now.
ER: I'm still playing cards with the card deck!
You may have already answered this maybe just from the gaming piece, but I'm curious to know what extensions or partnerships you are most excited about?
TW: One area that is an existing partnership that we have from the NFLPA perspective, but an area that I'm really keeping my eye on and I'm excited about, is the licensing of athlete biometric data. This is certainly a disruption in the market that people I don't think would ever have dreamed of being something that you could actually license, but really it's the analysis and the data from performance. It's what player does on the field, on the court, sleep, recovery, nutrition, etc. All of that data together is now a commodity, and I really feel it could revolutionize how we play and consume sports. If you imagine the next gen stats that you know when you're watching a game and you see the breakdown of a player's speed or the players agility and things like that. Data integration is now extended beyond wearables to things like beds and apparel and helmets and video games as an example. Measuring the players, heart rates, their recovery, things like that. Once players become more familiar with the market value for this information, I think that like the endorsement and licensing landscape is going to be completely redefined.
One of our partners is called Whoop, and it is a wearable that tracks exactly all of the biometric data that I just kind of mentioned. It's more of a personalized fitness tracker, but it does so much more. You may have heard about Whoop from a PGA golfer whose heart rate was being measured through the Whoop strap and the app. He was able to identify that he was having symptoms of COVID before he tested positive. It's that sort of stuff that I think is the most exciting thing within the industry. The partnership we started with Whoop four or five years ago and bringing them to today and where we are and how many athletes are wearing the device – it's incredible. I think I'm probably most excited about just that whole area of biometric data and how it will be used in the future and how it will really become second nature in sports.
ER: I personally don't play fantasy football, but I can imagine how that information also could impact fantasy football or even betting on games. If you can see what your players are doing from a nutrition and health perspective, and even from like a young player to a player who is more seasoned in their career and how that data changes over their career. It's very interesting to think about that data and the ways it could be used and the impact that it could have on the fans.
TW: You've raised another area. It's just crazy to think how far we've come with technology and sports, but sports betting for sure is going to be impacted as you mentioned. Just having access to this data on players will change sports betting completely in bringing people even closer to the game then they've been before. Fantasy football goes from somebody just saying, "oh, I like that guy. Sounds good. I'll draft them." to "oh, wait, I understand that he has a recovery rate of 48%, and I don't know about that." Decisions are going to be made in much differently. I'm with you. I think there's a tremendous amount of influence on the industry and on the game by virtue of these players and how they're taking care of themselves.
ER: That's so interesting. I'm excited to see how that develops and truly influences sports licensing.
To wrap things up, one question I've been asking a lot of our guests is what is the strangest licensed product or partnership that you've seen?
TW: I can think of like one of the coolest, but I can't think of anything strange that I've seen.
ER: You can say the coolest! What's one of the coolest that you've seen?
TW: So, there is a backpack manufacturer that we worked with that took player IP but made it cool. It wasn't the traditional use the player's name and use the player's number. It was actually collaborating with the player to create this product together. They drew from the player's personality and then transferred that personality into backpack form. It's hard to explain on a podcast, like you'd really need to see it, but I think you really felt the player's personality from the product and it looked like you didn't really need it to be sports-related. It was drawn more from representing who the person was. It felt more like art in a way than an average backpack. That was probably one of the coolest collaborations I've seen between a company and a player. It's just one that you'd have to see. Me explaining it doesn't give it justice.
ER: I can imagine because of that authenticity and that interaction with a player that it probably sold better because it was more meaningful and impactful. I could see it even though I can't see it. I can see it in my head, and I can see the magic of the relationship. That backpack manufacturer really developed the relationship. It wasn't just taking the assets and throwing them on a general backpack. They were really developing this product together. And that's what makes meaningful partnerships and meaningful products that make the wow factor.
TW: Again, social is such a big part of that sales process and that marketing process. So, players taking their photos with the the product on, it became more of a fashion statement and people are like "where did he get that? where is that? where can I get that?" It was one of those cool activations that you're like "wow."
ER: That's awesome. As we wrap up our conversation today, I did not think that it was going to go into the world of fashion and athletes. I wouldn't have put those things together, but it is so true how those can really make big partnerships.
If people want to connect with you online or reach out to work with you, what's the best way in which they can find you?
TW: First stop is our website NFLPA.com. There's a ton of information on our players, some of the things that we're doing with them from a branding perspective, our externship program, and our athlete program where you get to learn a little bit more about players and their personalities and their interests. There's also a business section. As it relates to the licensing and marketing arm of the NFLPA and the NFL Players Inc., you can learn more about how to become involved with NFL players from a business perspective and even consult with us there. If you're interested but aren't sure how to start or where to start, you can just email us, and we'd be happy to chat with you and make sure you're in the right hands.
I would also add our social media like Instagram and Twitter. Twitter and Instagram are the best bet. The last place I would shout out is LinkedIn. A number of NFLPA staff are on there, so you can find the best person that will answer your questions.
Conclusion
IMC has been a top branding licensing agent since 1997. If you're looking for a partner to help guide your licensing efforts, we can help. Schedule a quick introductory call today.