How Risky is Brand Licensing | Emily Wickerham Randles, IMC Licensing
The Brand Licensing Podcast
May 14, 2021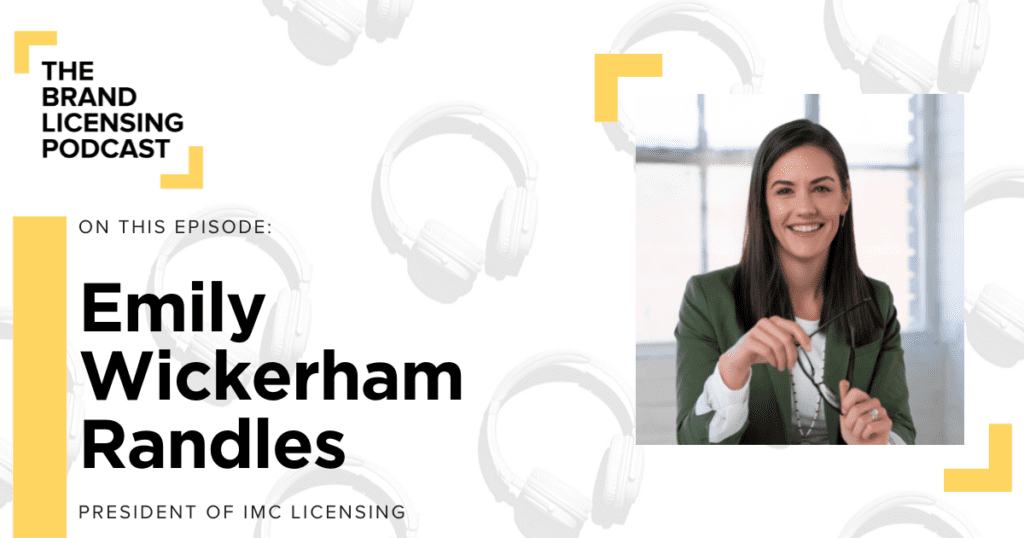 Worried that licensing is too risky for your brand? Host of The Brand Licensing Podcast, Emily Wickerham Randles, is walking through the steps brand owners can take to mitigate risk on this episode.
About Our Guest
What is a traveling enthusiast obsessed with recycling who never met a hiking trail or a ski slope in the Rockies that she didn't like doing in brand licensing? Meet IMC's president, Emily Wickerham Randles. For over 14 years (if anyone's counting), licensing has been Emily's love language. She's created lucrative long-term relationships for LifeSavers, Sweet Baby Ray's, TABASCO, and her personal favorite, Ziploc large storage bins ("I love these things!"), all while tying the knot and building her family in Kentucky. Emily's got all the accolades you'd expect from someone in her position, including an MBA, but what makes her even more proud than eight figures in royalty revenue for IMC's client roster is her ability to make a difference through meaningful products.
Under her leadership, licensing brand babies have done everything from saving someone's carpeting to saving their marriage (true story!). Emily doesn't just riff on prime shelf positioning or nerd out on scorching new sales strategies, she can also chat about the latest episode of "The Daily," pour you a pint of her favorite IPA and steer the water-cooler scuttlebutt toward the latest business book she's read. (Which she does — frequently.) Whether she's at the helm of her paddleboard or the IMC board room, you'll love Emily as she captains your brand in the right direction.
Tune in below to hear firsthand on mitigating risk, and check out our other episodes on Apple Podcasts or Spotify. Don't forget to subscribe!
Episode Transcription
Hello and welcome to The Brand Licensing Podcast. I'm your host, Emily Randles, and today we'll be talking about the risk of brand licensing. A lot of times I like to make the analogy of brand licensing as having a brand licensing baby. The licensor is the parent, the licensee is the babysitter, and it licensing is giving your baby to the babysitter to watch their first time, which can be very nerve-wracking and scary. There's a lot of what-if scenarios that jump into your head. And I'll be honest, as a new mom, this means even more to me now because I can relate to leaving the baby with a babysitter. From a licensor perspective, I know that there are a lot of what-if scenarios and questions that you probably have when thinking about licensing out your brand and letting someone else use it.

We have those discussions with brands and clients daily and want to talk about then the popular questions that we come across and how you can mitigate those risks from a licensee is perspective. I think it's good for you to listen to this and understand what concerns a license or maybe having about lending your brand or having them babysit the brand baby. And you can help them mitigate the risk and help them be more at ease about talking to them about these things and how you have protocols and processes in place to mitigate their risks as a brand owner, and that you will be taking great care of their brand baby. And at the end of the day, when we bring partnerships together with the licensee and a license, or everybody has the same goals and objectives, right. To build brand equity, to sell great products to consumers, and to generate sales and great brand impressions.

So I think knowing that you have the same end goal and that you want to both protect the brand, maybe because you want to watch it grow and flourish, that if you have that mindset in place and you have some of these factors that we're going to cover today in place, I think that'll help kind of put your mind at ease. So before I jump into the specific questions and concerns that we've come across, I want to say that a lot of ways that brand owners can protect themselves is through the licensing agreement. So it's really important that you're using a good licensing template and that these things are being addressed and touched on. And that you have been communicating your expectations to licensees before the licensed agreement assigned and that you're monitoring and that they're following these best practices that you put in place.

And that is outlined in the agreement in terms of processes for review and approvals and performance hurdles, et. So the agreement is a big piece of mitigating your risk. And so we will touch on those things that you need to have in there. And some other things that you can do. So jumping in here, one of the first concerns that we hear from brand owners is what if the licensed product doesn't meet quality standards or isn't of good quality. So again, thinking about overall goals and objectives is that we have this type have the same goals and objectives as selling great products and got to remember as the licensed or that the licensee is being a guaranteed to use our brand and a royalty. So they're going to want to protect your brand just as much as you are so that they can continue to use the value of the brand to help sell the licensed product in terms of making sure that the quality standards meet your expectations.

You want to make sure you have quality guidelines outlined in your license agreement, and then make sure you have appropriate audit and review processes not only in place but then also outlined in your agreement. So you could have a great product reviewed and approved for production and manufacturing and it's sold, but a year or six months down the road, if you pull the product off the shelf at the market, is that what you reviewed and approved? A couple of ways, we mitigate that as one, we make sure that we are getting final production samples, that their review and approval processes throughout the product development process, so that you, as the brand owner are involved really in the review and approval process from day one. So you've got your concept colors, packaging. You should be seeing that before the final product is made and approved and sent to you for approval.

So once the final product is kind of sent to you for review and approval, and you say, yes, this is great. And it meets my expectations and maybe you've reviewed performance reports or claim substantiation. And you feel great about bought everything in the product, hitting the market, but then it gets to market and it's not what you approved, right? So we make sure as a brand licensing agency and kind of one of the services that we perform for clients is making sure that final product meets expectations. And then what makes it to shelf is matching what we have in terms of product development and approvals as a license, or you want to make sure you're getting samples from production runs on a, maybe on annually or annual basis. And again, that it's meeting the standard that you had set and reviewed and approved from day one.

And then we'll do periodic audits of what's on the shelf and at retail. And what's being sold online of licensed products as a double-check and then best practice. And again, I think the bigger thing and lesson here is the thing to remember is the relationship. And so if you're having good conversations and touching base with your licensee and talking with them regularly, that if something does come up, you're discussing issues or concerns with them, maybe they're discussing issues or concerns with you in terms of something's come up from a manufacturing standpoint, or maybe a key ingredient component is no longer available and they're having to replace it with something else. They're going to want to talk to you about that and make sure that you're in the know. And I think that is in addition to the agreement, having that communication and that connection and relationship with your licensing partner, going to be important when mitigating the risks and making sure that their product meets your quality standards.

The next concern that we hear from brand owners is what if a licensee misuses or misrepresents the brand. So again, important to have your guidelines in the agreement and that they are clear if updates need today, that those updates are being communicated to your licensee and that you are reviewing not only the product but all the pieces and aspects of the product, right? So the marketing materials, the sales materials, and making sure that you're clear on your guidelines. So if there's a concern that your licensee is going to be promoting the licensed product on your social media channels, and maybe they're not using the right brand voice or tone, when talking about your brand online, let's have those conversations upfront, let's set those expectations and guidelines, licensees. You should come to the brand owners with plans on how you want to promote and talk about the brand and your marketing expectations.

And if there are ways that they can be involved there amplify the marketing voice that you will have around the licensed product. But if you want to be sharing on social media, you need to talk with them about that. And you need to make sure that everything that you're sharing is going through your review and approval process, licensed source. You want to make sure that you're asking those questions, what is their marketing plans and that making sure that you have a review and approval process in place for them to be able to submit and making sure that you feel good about how the licensee higher partner is using your brand. So that's how to kind of mitigate misuse or misrepresentation of your brand. The third thing that we hear is what if your partner doesn't perform? So you've given them rights to license the product in a certain category.

Maybe they've paid a hefty guarantee, but they're not selling the product maybe instead of selling the licensed product, they're selling their core product. So again, this is a lever that you want to use within your agreement is making sure you have product performance requirements so that if they're not selling, maybe they're losing exclusivity. Maybe you have the right to terminate the agreement early. You do want to make sure that your licensee is selling and performing the product licensees. If for whatever reason, the product is not performing at market, as you had hoped, or as you had thought that having that discussion with the licenser and letting them know market factors that are going on maybe this past year, obviously a lot of market factors change. So I think again, having that open dialogue and the relationship with your licensing partner is going to be critical so that if the program isn't performing, you guys can adjust and reset and make adjustments or talk through and problem solves any issues or mishaps that are happening at retail so that you can get the increased sales and increase your brand market share as quickly as possible.
The final thing that I think is the biggest, the maybe biggest concern that we have from brand owners is litigation against the brand. And one thing I want to note is making sure that you're doing all of the things that we just we've talked about before in terms of performance, quality standards, and making sure that the licensees are using the brands correctly if all of those things are happening. And you're using these tools that we're talking about, the litigation risk is down, right? It's never zero. It's not zero in anything in any party business, but I will say that it is rare in terms of the partnerships that we've done. If the brand owners and the licenses are communicating that we don't see this happening very often when it does happen because some things just happen and it may be that consumers misuse the product for something like that.

But contractually within your agreement, the licensee indemnifies, the brand owner or the licenser for any issues. So it is the licensee's responsibility and there's a lot of legalese and direction. Make sure that that's clear if there is litigation, how do you want it handled? What involvement license, or do you want to have? As I said, it is typically the licensee's responsibility to handle it, but that is with guidance from the licensed war because it is their brand and they potentially are named within the suit. So again, that's an important clause that we have in the agreements. And it's just for those rainy day scenarios. But if you're mitigating your risk with the other approaches that we've discussed, I think this helps protect your brand. I think the other thing I want to note here in terms of litigation against your brand as brand owners need to be cognizant of their involvement within product development.

So the more involved you are within product development, the more liability you're taking on in terms of being responsible for the product. So you, as the brand owner, want to make sure that you have review and approval processes in place, and that you're reviewing what the licensee is doing, but that you are not doing the actions and you are not prescribing product ingredients or how it should be made or how the product should work. That should all come from the licensee. And you were saying, yes, that's my brain guidelines. No, it doesn't. So you may say as a licensed or this color, isn't right for my brand, but you don't want to say, use this plastic ingredient to make this specific color, because what if the plastic ingredient then causes an issue or causes the product to malfunction will you've mandated that this be used and therefore you're more heavily involved within product development and have more liability, more risk in terms of how the product performs.

So just something to be careful about, I think, any time licensees and licensed get involved in licensing agreements, obviously you're getting legal counsel and your legal counsel. You need to make sure you're talking through these issues with them and understanding cause and effect and making sure that you have a plan if this situation were to occur, that's it in terms of my tips for mitigating brand risk. Again, I think working with your legal making sure the agreement is tight. And then having that strong relationship with your partner is important in terms of decreasing your risk. If you have any questions, please feel free to reach out. Thanks for tuning into the podcast today.